You know you need to stay consistent on Instagram.
Some recommend to post daily whereas some recommend to post twice or thrice daily. And it can be hard to come up with new Instagram post ideas on a daily basis. I've tried this and I know how hard it was for me.
Everyday, I'd think about what to post on Instagram… and it was frustrating!
So, I compiled ALL the content ideas that I found on the Internet with some of my innovations in one single piece of article. Hope these ideas help you.
Note for Bloggers: Make sure you are creating content on Instagram for the same audience as on your blog. Otherwise, it would become difficult for you to drive Instagram followers to your blog.
Disclaimer: This is going to be a long post, so sit tight, sip a cup of coffee, relax yourself and start reading all the content ideas I've here for you.
Do you feel like you don't have time post on Instagram?
If you feel like you don't get much time to post on Instagram…
…that Instagram is sucking a lot of your time…
…& that you need a simpler way to tackle Instagram…
…then you are in dire need of Instagram image templates.
Image templates save a lot of your time & once you have them, all you have to do is to change the text & you're good to go.
You don't need to worry about making your Instagram graphics look beautiful anymore, because that's already done for you.
If you feel like you are someone who needs these, then I created 140+ Instagram image templates that are easy to use, customize & download.
Get the 140+ Instagram Image Templates by clicking here.

Now, let's get started with what to post on Instagram…
1. A tip from your blog
Sharing a tip from your blog can't be difficult. Your blog must be filled with a LOT of content. So, I guess collecting a few tips out of those shouldn't be a problem. The easiest idea ever, ain't it?
2. Ask a question
Asking a question is great for increasing engagement! It entices followers to answer and be a part of the discussion. Here are 65 questions to ask your followers to increase engagement.
3. Blog post promotion
There are many ways to promote a blog post on Instagram in a non-sleazy way. Yet, this is the most frequently asked question to me. So, here are some of the ways I share blog post on Instagram without sounding pushy:
Share a teaser of the blog post
Share slides in a carousel post
"Sell" your blog posts
Make your Instagram Post about "WHY"
These are just a few of the ways from this post I wrote about sharing blog posts creatively on Instagram that makes your followers jump onto them. (The link will open in a new tab, so your place isn't lost in this article)
4. Tutorial
If your blog niche is something where you can explain something through a tutorial, this is the best post you can put out. Posting a video works best with such post content. But, you can also post "descriptive images" if you don't want to do a video.
Descriptive images are such images that themselves give the step-by-step tutorial directly by looking at the image. There's no need of a caption or a video. These images work pretty well on Instagram. I teach about these images in Instagram Content Strategy Book.
Have a look at a couple of my descriptive images.
https://www.instagram.com/p/BmiWiOnA3UA/
5. Industry trend
People on Instagram does not follow you just because you publish cool posts on Instagram or give them valuable advice. It brings more value to them if you can help them stay on top of industry trends. Look at these Instagram stories I posted related to Instagram updates.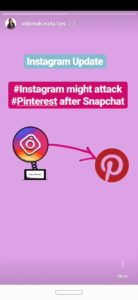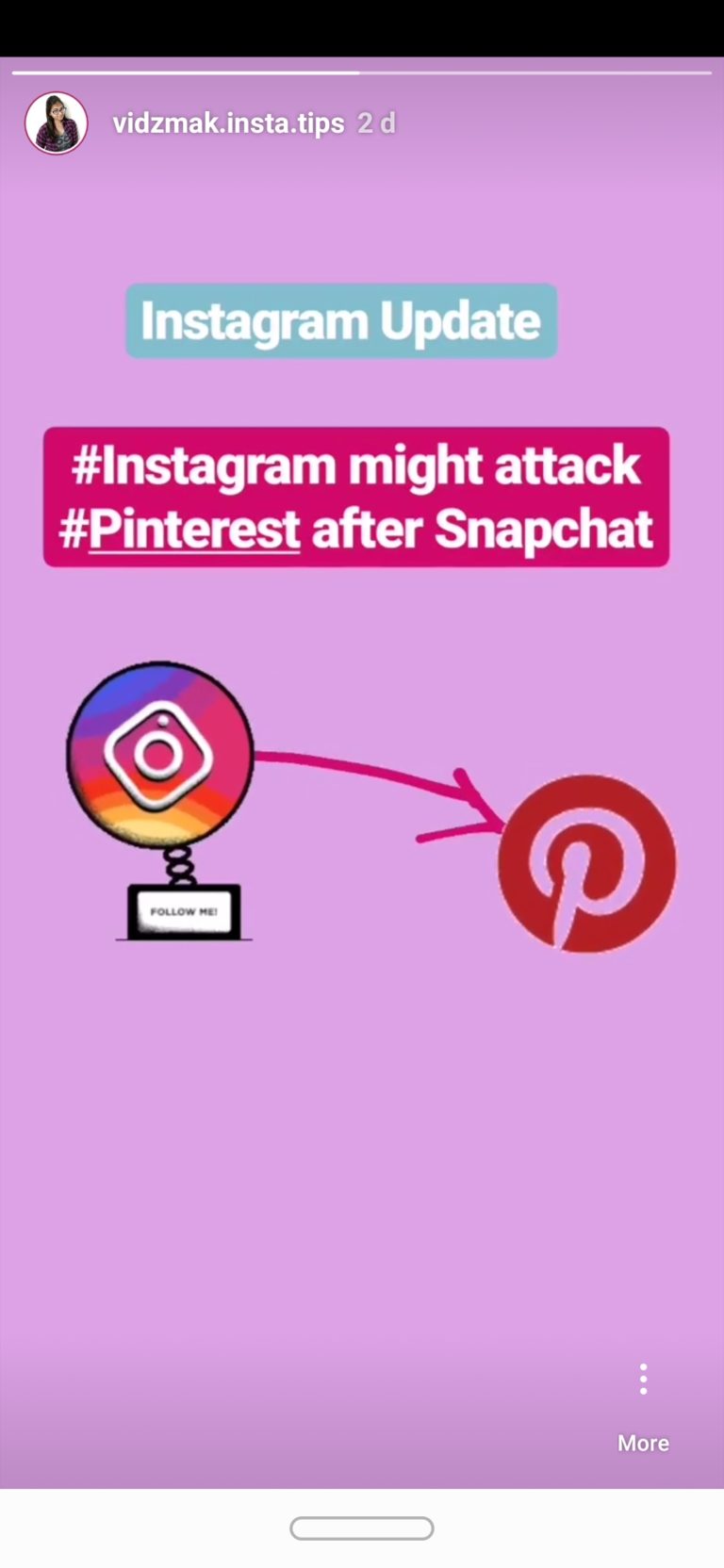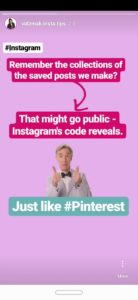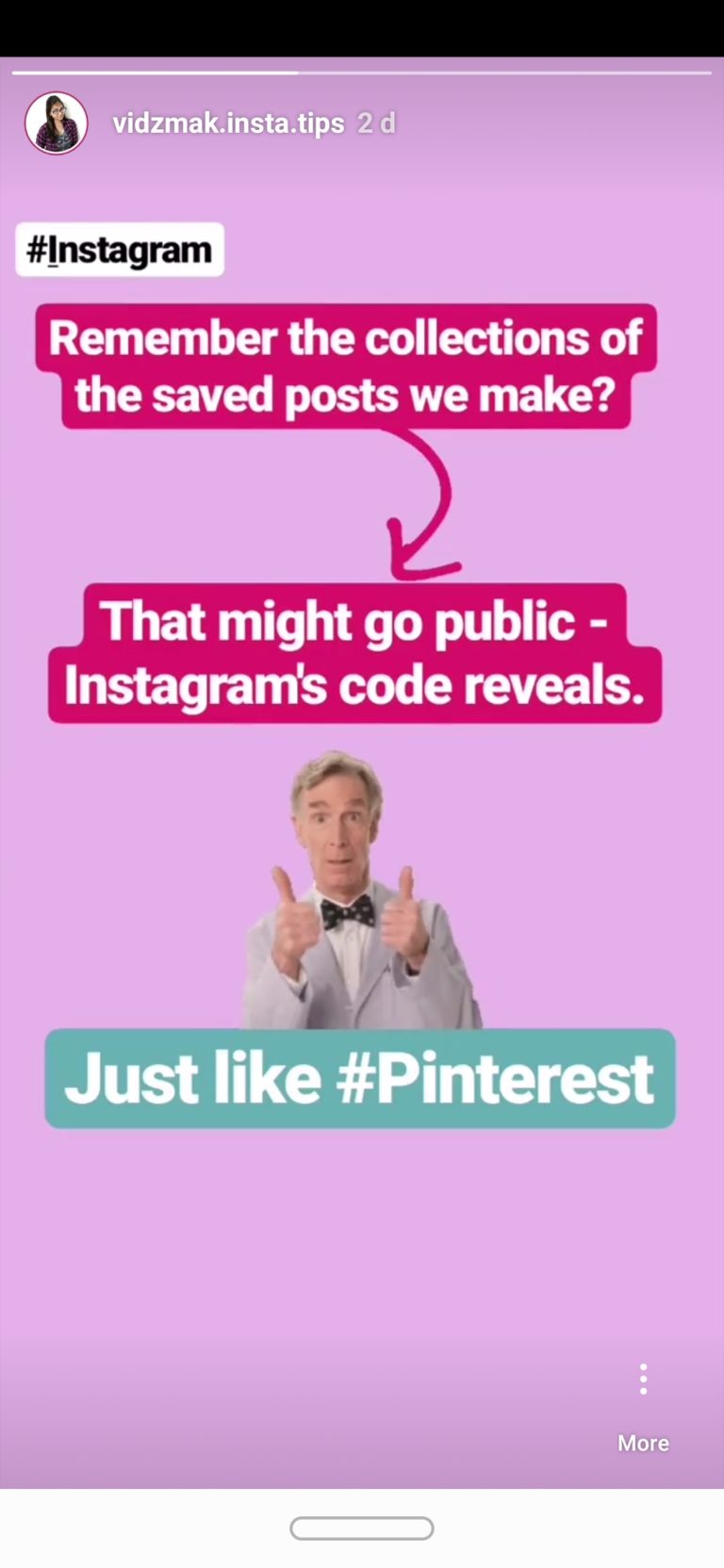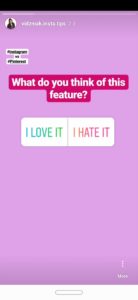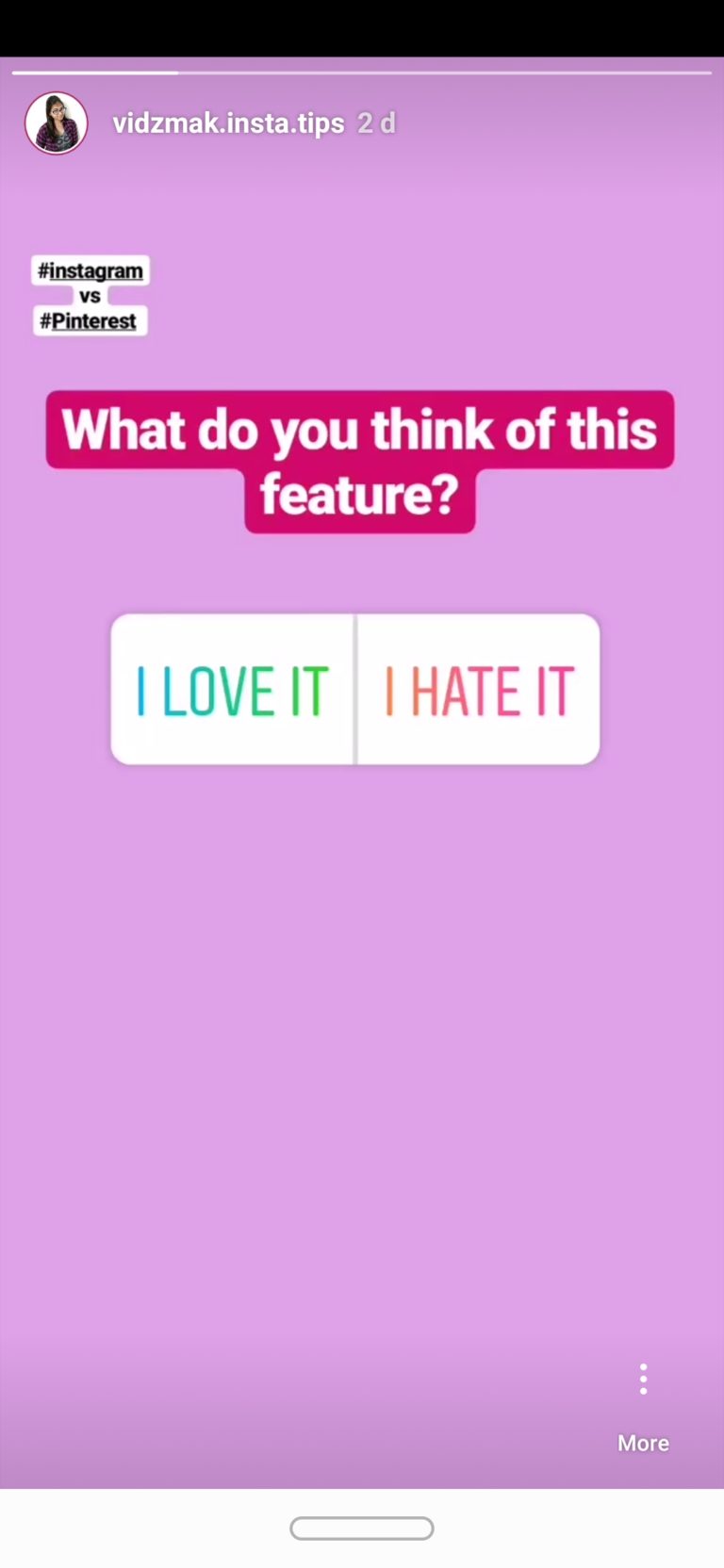 Also, note that I am asking people about what do they think if this feature is out. This brings engagement. If you don't ask for engagement, they won't do it. So, rather come up with ways to use questions, polls, etc to get your audience's engagement. The more you get that, the more Instagram's algorithm loves you.
MORE ON THIS: EXACTLY how the Instagram algorithm works (& how to get it to work FOR YOU!)
6. What's in your bag flat-lay
If you've been on Instagram for a while, you already know this term "flat-lay". It is basically a picture taken from top, of tools/things put flat on a surface like bed, table, or sheet.
If you're in fashion, beauty or makeup industry, this is one of the best Instagram post ideas for you. Your followers are always looking to know you in different ways. You are an influencer for those people and that is why they care about what do you carry in your bag and how is your lifestyle other than blogging.
But, these are not the only industries where what's in your bag post idea can be applied. There are industries like gym trainers, or fitness influencers, or lifestyle bloggers who can also take leverage of this post idea.
These influencers can post a flatlay of what's in their gym bags, or what's in their work-bag, or even what's in their clutches. Have a look at these Instagram post examples:
There's also a trend going on over YouTube about showing people what's in their new shopping bag. And for such a content, there's an awesome post idea for Instagram – flat-lay. Haha.
Take a flat-lay of your new shopping bag and post it on Instagram.
7. Funny pictures
You can show behind-the-scenes of your business and show them funny moments of your life.
Or, maybe you can just re-post a funny quote or meme from someone else. But always remember to credit the original content creator.
8. Motivational Quotes
There are many accounts based on just motivational quotes and you can literally view their engagement. Quotes give people hope and the little nudge they might need in their lives.
So, post motivational quotes from time-to-time to give your followers a little boost.
9. Beautiful landscapes
Don't you love to view a beautiful scenery in your Instagram feed? Yes, such photos make you instantly hit that like button. Why not post such beautiful landscapes to get some quick engagement?
But remember, your Instagram account should be related to your blog niche so you have to make that beautiful landscape post relate to that niche.
I knew you'll ask me how to do that…
That's where the art of storytelling comes in. You might post a picture taken by you from one of your trips and talk about the fun you did there. This would give your followers a glance into your life.
Or, you might post a picture from stock photos and talk about your dreams about why you love that place and want to visit that. At the end, you might ask your audience if they have been there and ask them to give a short story about their travel there. See? How that becomes instantly interesting?
10. Did you know facts
People enjoy interesting did you know facts. And you know what? These need not be related to your niche, but you can always leverage the advantage of storytelling to bring it back to your niche. As we just did before!
For example, if you're a mommy blogger, you could post something like this:
11. Infuse your brand's mantra time to time
Do you even have your brand's mantra?
I mean, what are the 3 things that you believe in and stick to in your niche. These might be things that make you different from your competitors. And infusing those into your posts from time to time is really important in any industry. This makes you stand out from other competitors.
AND, it doesn't have to be something very unique or too big. It could be something really simple like "quality over quantity".
Like, for me, my mantra is "Followers number don't matter as much as the engagement rate". I'll put some more of my mantra's down the article. So, keep your eyes open 😉
12. Your favorite beauty/hair treatment
If you're in fashion, beauty or lifestyle industry you can take leverage of this Instagram post idea. In fact, even if you're not in these industries, you can still post a "connection content" (as I call them) to give your audience a glance into your "other" life that is not related to your blog.
Such posts make people feel a connection with you, and makes them engage deeply with your content.
13. Your current struggle
Aah! My favorite "engaging post". I call a few Instagram post ideas engaging posts because they boost engagement.
You see, people love to help other people. Aand if they got a chance to help someone that they follow, they'd jump in to get their attention.
And that is why, if you talk about your current struggle, how you feel about it, and ask for help, they would love to provide you the help. This post idea brings a lot of likes, and more importantly comments.
14. A money saving tip
Every industry has some unique ways in which they can save money through some hacks. Share such ideas about your industry.
15. Stats and numbers
Sharing stats and numbers about your industry would keep your followers up-to-date about the industry they are interested in.
Moreover, people love to share, so if they knew something before everyone else, they would love to be the hero. That means if YOU helped them become a hero, YOU are their hero… haha.
16. Run a special
You don't have to wait for a special day to provide special discounts or whatsoever. You can simply run a special and surprise your audience with special discounts or sales about your products or services.
Getting bored of reading all the way through?
Download these ideas instead:
Save these Instagram Post Ideas for Later…
Download the PDF of more than 2 months of Instagram post ideas.
Just tell me where to send the PDF.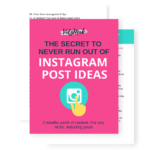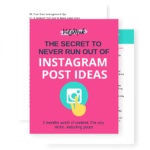 17. Fun from your favorite trip so far
Share your life with your audience. They love to engage with such content.
You can share a picture of video from your favorite trip so far and share your experiences about why that was your favorite. Ask a question about their favorite trip. (I always recommend adding a CTA in every caption, my another brand mantra)
18. Fun facts
Share a few fun facts about you and ask them to share theirs. It's always fun to know a little more about someone you follow.
19. Free downloads
My favorite promotional post idea for Instagram! This post idea serves everyone and makes everyone happy. Free downloads gives value to your followers, so they are happy. And you get their email addresses to build an even stronger relationship with them.
This is the most important part of marketing a business on social media, not just Instagram. You need to capture your followers' email addresses so that you don't lose them when Instagram (or any other SM) decides to purge your account or if Instagram itself shuts down at all OR if your account gets hacked!
You don't want to lose all the hard-earned followers, do you? And that is why, capturing followers' email IDs is the most important thing to do as I recommend. (My third brand mantra!)
20. Show them your cute pets
Instagram is not all business. It's a connecting media. You remember how Kardashians got famous? They showed such a glimpse into their lives on social media that people felt they knew them personally!
And that's how influencers are born! You need to show them your family time, show them your cute pets pictures and introduce them to every person in your family like you would to someone you met in person. That's how you build a connection with your audience.
21. Your morning routine
Again, this builds that same connection thing I was talking in my last tip. Show them how your mornings go. How you manage them. Do you have some tips to make their mornings better? Share it to them.
Here's a morning picture I posted on Instagram:
22. Your time management tips
Every niche has some kind of time wasting things that people focus on rather than certain other things that they need to be focusing on.
If you've been in your niche for a longer period, you might have developed some time-management ideas that could help your followers. Share it to them.
23. A product that you've been using lately
Is there something new you discovered that is making your niche-life easier? Share that product, or tool with your followers. This is a value-based post idea. People would love it.
24. Your workstation
Give your followers a glance into the place you work from. You can also share how you got the workstation and the story behind it.
There could be 2 types of stories here. (Again, going into the story-telling thing!)
Maybe you are at the stage where you are just working from somewhere and want it organized. In such a case you can ask for help from your followers to get your workstation organized.

If you already have an organized desk, you can share how you got it organized, some tips and how it makes your life easier.
25. A photo of you/selfie
Showing your photo is really important. Because people want to know how you look like. Plus, a face is much more recognizable than words. It builds a connection between you two (You and your follower).
26. Before and after
Trying to sell something? Before and after grabs the attention like nothing else.
But the problem is, it only works with visual transformational stories. But, what if you have a product that does not provide a visual transformation, but rather gives a non-visual transformation? In this case, you need a highly attention-grabbing text-overlay image as explained in this post.
27. Behind the scenes
Show behind-the-scenes of your brand to show the fun, the hard-work and the inspiration you can provide to your followers.
As a blogger, show them your workspace. Or, show them important tools that you can't blog without.
If your audience is interested in your work, they would be much more interested in the behind-the-scenes of your work. How do you manage everything, where do you work from, etc.
28. Other social profiles
How many social profiles do you have? And, you might have like 100 followers here, 100 there, and 100 somewhere else.
That's 300 followers, but scattered around different social media. At this point, you need to cross-promote your social profiles into each other. This will help you gather all your followers at a place, and you'll increase your followers as a result. Win-win.
29. Answer your most frequently asked question
You might have people asking the same questions over and over again.
You can do a video answering those questions and then post it on Instagram, put it on stories, and then post a highlight about it. This helps in 2 ways:
Your audience is happy because they are able to get their answers (They are getting what they want)

You have content that people are enjoying.
Again, win-win.
30. Your relaxation times
This is a behind-the-scenes type of content idea. People love to know how others relax, and how others manage to take the time to relax and the importance they give to this thing. You can inspire people to care for themselves and that in fact, this should be their first priority.
31. Email Squads
This is kind of a bait for those who are not on your email list.
If you've recently sent an email to your subscribers, you can post an email squad telling your followers about what you emailed them. Then, you can give a link for those followers who are not your email list to join to get such exclusive emails sent to them as well.
32. Your everyday outfit
Share your everyday outfit with your followers. If you're in fashion or lifestyle industry, this is the perfect Instagram post idea for your feed.
33. A glimpse into your family time
A picture of everyone sitting at dining table, or having fun, or a video of the fun you have within your family. Such posts gives your followers a feeling that they know you so well. It builds a connection (You're going to hear this word too often in this post – connection!)
34. Your inspiration
Post a quote that makes you happy every time you're sad, or maybe a quote that gives you courage every time you feel low.
Inspiration can also be in the form of movies, TV series, or a certain podcast that inspires you to keep it up. You can also tag the podcaster in your Instagram post to show them that they inspire you. Building connections, babes.
35. How your average day looks like
Share what are your everyday activities. How do you plan your day and manage to take the time out of your busy schedule. Inspire people with your everyday routine.
36. Funny quotes OR just quotes
Bring on some entertainment into your feed!
https://www.instagram.com/p/BuT-FDIlAOw/
37. Your hobbies
When you meet someone for the first time, remember how you share everything? You love to know about the other person and love to share about yourself.
The same way, people are curious to know others. And so, sharing things like hobbies and your daily routines brings on the connection and conversation to talk about. And, don't forget to ask your followers to share the same. It's a 2-way street, always remember that.
38. What you had for breakfast today
If you find nothing else to share, share a picture of your breakfast. But don't do this everyday if you're not a food blogger.
39. User-generated content (UGC)
You might have heard of this before. If not, let me explain.
What is User-generated Content?
UGC is basically sharing the pictures created by your followers for you to share.
But the question is, how do you collect pictures created by your followers? That's when a branded hashtag comes in.
You create a hashtag with your brand name in it or at least the initials of your brand name. Make sure that the hashtag has not been used before, ever. Then, you share the hashtag with your followers and encourage them to use that hashtag.
Once people start using your hashtag, you can pick content from that hashtag and share it on your Instagram. The perfect lazy Instagram post idea, right? But remember always to credit the original content creator.
40. Funny Memes
Memes are engagement gatherers and the easiest Instagram post idea. Post a few funny memes to gather engagement on your Instagram feed. You can also repost someone's meme and give them back credit for it.
41. Share a photo that worked well in the past
Check out these hashtags – #tbt & #fbf.
These hashtags mean ThrowBackThursday and FlashBackFriday. These hashtags are specifically created for sharing past photos. If a photo has done well in the past, it will do well in the present as well (unless it was related to some trending topic that is not trending in the present, haha).
42. Share gratitude
Gratitude is the best practice. You've heard that, right? Then why not share it in open?
Share the good habits and encourage followers to do the same as well. In fact, tag the person if you're grateful to them. They would feel good as well. And ask your followers to tag one person they are grateful for. It's a win-win for everyone. Isn't gratitude grateful. 😛
43. Testimonials
Product/Service testimonials proves that your product/service is worth trying. It builds trust.
Not just products, you can even share testimonials from people when they shared something good about your Instagram account, or your emails. People love social proof, why not use that to bring more eye-balls to your account?
44. Tagging post
Tagging post is a post where you ask your followers to "tag someone who…". These kinds of posts sure brings engagement in the form of likes and comments, but they also bring new eyeballs to your account. It brings new followers as well.
45. Series of posts
Series of posts work so well. Series of tips on a certain topic, or series of a challenge that you might be holding. Come up with new ideas that might interest your audience and do a series about it.
A few tips:
Make sure each series tip is immensely value-based and actionable.

Put series number on every post image to remind people that it's part of the series.

If possible, use a certain branded hashtag for that series
How this post helps you bring new followers:
When your post is in the top posts, people will notice the post, and since it has so immense value, and it has a series number, it'd make them think that there are other such tips as well. People will visit your profile to get more of such valuable tips. And if you've done a great job with this series, you'll gain new followers with this series.
46. Going live
This is not an Instagram "Post" Idea, but I thought I'd add this because going live is the best way to get engagement. Instagram is pushing live videos extensively. When you go live, your followers get a notification that this person just went live. You can get unexpected engagement from your audience around the world.
Plus, if your followers have not been engaging with your content lately, going live will wake them up. They might start taking interest in your content.
Before you go live, create a hype in your stories a day before you are going to be live. This way, your loyal followers can keep space around that time.
47. Share your poll results in your posts
Not everyone watches your stories. Sharing your interesting poll results in your posts will bring on more engagement. Plus, some of your post viewing followers might start watching your stories.
48. Which books do you recommend?
Book recommendations are all-time favorites. Share books that inspire you, your favorite fiction books, business books etc.
49. Repost a photo of your product being used – taken by your follower
This is the best example of promotion without being sales-y. This would encourage more followers to check out your products.
50. Themed days
You can also theme your days so that you stay on track and people know what to expect from you for that day.
For example, sharing blog post on Thursdays, sharing a tip on Tuesdays, real-talks on Mondays, etc.
51. A fan photo
Share a photo of one of your loyal followers thanking him/her for continuous engagement with your content.
This is like giving something back to that follower and showing that you notice and care about your followers, that their engagement isn't getting unnoticed. Moreover, this might also get other followers to engage more just to get featured on your Instagram.
Want to download these Instagram Post Ideas instead?
Save these Instagram Post Ideas for Later…
Download the PDF of more than 2 months of Instagram post ideas.
Just tell me where to send the PDF.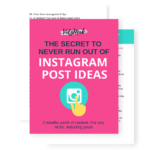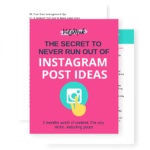 52. Share an event
If you're going to an event, share that event with your followers and invite them to join you. The easiest kind of post idea that is cool, entertaining as well as engagement gatherer.
53. Celebrate a national day/week/holiday
Celebrate national days or weeks. Pretty self-explanatory, isn't it?
54. Short video
Post a short video of anything. Family time, any funny moments, you working on a project, or just you talking about an awesome tip.
55. Your product being used
Post a video of how to use your product, or showing how easy it makes their lives, or just a picture of your product. Do some kind of promotion by showing your product.
Tip: If your products are digital, you can easily create a mockup of that digital product to look like an original product with smartmockups.com.
56. Promote something
Promote your blog post, YouTube videos, podcasts, products, services, freebies. Promote anything to make your followers to just take some action.
57. Something that you learned/figured out recently
…not necessarily related to your post.
There are many everyday problems people go through, you can share a tip related to anything that would make your followers' lives a little bit easy.
58. Share success stories
Sharing success stories encourages and inspires people in many different ways. It could be success stories of normal people like your followers and how they managed to achieve success. Sharing such posts will give your followers hope and confidence.
59. Show how you work – a short video
A short video of you working on your workspace, or just about something that has many different ways to do, but you do it in a certain manner which might have a certain benefit.
Share how you do it, and why you do it that way. A pretty simple tip that has a good benefit to your audience.
60. Shoutout to a follower
Give shoutout to a follower who has been engaging with your content continuously.
61. Hold a giveaway
Giveaways are the best ways to increase followers and engagement on your Instagram.
But the problem with giveaways is that it might bring freebie seekers to your account & it makes people unfollow quickly after the results are announced. But, there are ways to hold giveaways the right way to get past these challenges.
62. Promote your hashtag
As I already mentioned before, in the user-generated content (UGC) about creating a branded hashtag for collecting UGC.
But, your branded hashtag does not just do that one job of collecting UGC. It also spreads your brand awareness to the user's followers who uses your hashtag.
So, the more you promote and encourage your followers to use your hashtag the better. In fact, publish a post just to promote your branded hashtag.
63. A recent hack you learned
If there's something that many of your followers struggle through, and you happen to come through a hack that might solve their problems, definitely share it with them.
There's a blogger who I adore so much. She is the queen of hacks and whenever she comes across any new hack, she would create blog posts around it and finally she would create a product around the hack. Her hacks are always unique and so her products, you'll never find those hacks anywhere else, and she sells her products at cheaper rates. Here is one of her books about how to triple your affiliate earnings from just one blog post even if you have less traffic.
64. Product review to promote affiliates
Do product reviews right in your Instagram post to promote a product that you're an affiliate of.
65. Tips and tricks to do something
Tips, tricks and hacks around your niche definitely adds value to your Instagram feed. Use this Instagram post idea to add value to your followers.
66. Mention an influencer
Mention an influencer related to your niche or not, and share why they inspire you. Pretty easy, huh?
67. About Me
Share funny traits about yourself, or just a professional about yourself that share what you do, and why you do it, and that also encourages your followers. This might be something about introducing yourself to your new followers and giving them a high-five 😉
68. Sneak peak into a project
Working on a project? Give them a sneak peak and let them guess what you're working on. You can also go a little overboard and give them a few hints. Your project will gain some attention and you'll build hype around it – win-win, if you ask me.
69. Promote your blog
Huh, promoting your blog. Seems difficult on Instagram doesn't it? People seem to be so indulged in their feeds that they would never leave Instagram, right? Here a few ways to get them clicking on your link and leave Instagram to visit your blog.
70. Industry article
Share an industry article related to your niche with your followers.
---
Conclusion: Instagram Post Ideas
That's it. Choose the Instagram post ideas you think will work with you and start with them.
Feel free to come up with your own variations of these.
Download these ideas for later:
Save these Instagram Post Ideas for Later…
Download the PDF of more than 2 months of Instagram post ideas.
Just tell me where to send the PDF.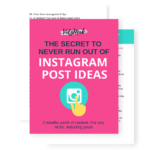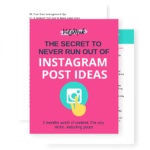 Let me know in the comments if you think I missed anything. I'd love to add those in this post and give your blog the credit.
Mind sharing this article with your blogger friends?