Disclosure: Posts may contain affiliate links, meaning, at no additional cost to you, I may earn a commission if you click through and make a purchase.
What are you struggling with right now?
Pick one of the 2 options below & I'll instantly send you the course!
---
Sharing blog posts on Instagram can be tricky, especially because Instagram only allows one link. Moreover, Instagram users are so involved in scrolling through their Instagram feeds that it seems almost impossible to get them off of Instagram to read your blog posts.
But…
What if I told you that there are workarounds to get your Instagram followers interested in your blog posts, SO MUCH that they will LEAVE Instagram to go read your blog posts?
Let's begin…
Note: This post is about sharing blog posts on Instagram. If you want a full-fledged knowledge about how to promote your blog on Instagram, read how to use Instagram to promote your blog.
1. Share a teaser of the blog post
Can you share a few best parts of your blog post that will compel your audience to read more about the topic?
But, here's the catch…
Don't give away everything there.
Just the compelling ones are enough to drive traffic to your post. You have seen many teasers of movies, right? You see how they manage to show just the exciting parts of the movie to entice you to watch it in the theatre and still don't give away the whole story of the movie.
Be creative and share this in your post as well as in your story to get even more traffic to your blog post.
2. Use the 'benefits' to promote blog post on Instagram
The best advice that I can give you here is to share the benefits your audience will get after reading your blog post. Share what will they leave with after reading your blog posts. What small change would it make in their lives.
As an example, if I were to promote this blog post on my Instagram, then I'd share these benefits:
You'll leave with creative ideas to share your blog post on Instagram that doesn't make you feel pitchy
You'll have 50% more pageviews through Instagram comparatively to what you had before when you promoted your blog posts
Now remember, features and benefits are different. Sharing a feature would not make your followers interested.
A feature of this blog post would be 9 awesome tips to share blog post on Instagram. But this would not make them interested. You need to tell them "What's in it for them". So if you come up with a feature, think about – "So what?"
What will they gain from this feature?
And that's your benefit. That is what you need to share on Instagram. Try this out and then hit me up with how it went in my DM.
I've created awesome Instagram story templates specifically to promote blog posts on Instagram. Don't forget to grab them for FREE here…
Sharing Blog Posts Brings Crickets?
Get my Instagram Story Templates for FREE:
that are fully customizable
will increase your post reads by 50%
make your followers WANT TO READ your posts
Just share a few details to get access 👉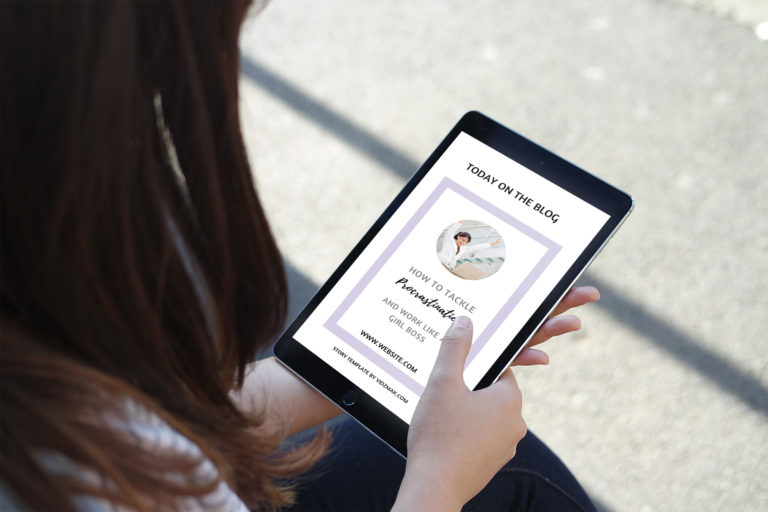 3. Sell it
You've seen those sales pages? How do they show you all the good parts of the product to entice you to buy their products? That's the power of convincing.
Analyze some sales pages and then try to sell your blog post in the same way in your captions. You don't need testimonials, of course. But you can at least use other ways that sales pages use to convince their page visitors to "buy". Plus, you are not trying to actually sell, but to visit your page for FREE! That makes it easy, right?
4. Make your Instagram post about 'WHY'
Make your audience interested about why something is important, and then share the 'HOW' in the blog post.
Once people are interested in that 'something' and understand its importance, they would be interested in how to do that 'something'.
For example, I could write an Instagram post about how critical Pinterest is for beginner bloggers (assuming that my ideal audience is a beginner blogger) and what its impact could be (sharing results with accurate digits).
Then, if I share a blog post about how to use Pinterest to get those accurate numbers on your blog, any beginner blogger would be interested in checking out this blog post.
5. Share a story
Stories work great. Not only on Instagram, but everywhere! They get the most engagement, most importantly because people can relate to those, or because they get them interested. There are many ways you can start a story.
You can talk about your current struggles and then ask for suggestions from your audience. They would be more than happy to help. Then, in the next post you can share your blog post about your ideas on that.
Alternatively, you can also talk about your past struggles vigorously such that it makes your audience relate to their own current struggles. For example, an expert blogger who blogs about blogging can talk about his/her past traffic struggles and obviously the beginner bloggers would relate to those. Then, sharing the blog post and telling them
that you've shared everything that you did to go from 0 to 200,000 pageviews. This would naturally make your audience to go and read your post.
6. Share the important points of the blog post
Share the important points of your post, but don't give away the details. Share everything that your followers will learn from your blog post.
What important points have you explained in the post (that you are not going to explain on the Instagram post). And then ask them to go through the link in your bio to read everything in detail.
Recommended: 5 ways to make your followers go visit the link on Instagram. (Hint: "Link in bio" is NOT the only way!)
7. Share a tip from your blog post on Instagram
Sharing a random tip from your blog that provides a solid solution to some major problems of your audience would make them hungry for more. Then, you can tell them to visit your blog post for more!
8. Text Overlay Image
Post a text overlay image with the post title as the text. And make sure that you blog post title is enticing enough.
If not, use Coschedule's headline analyzer. It will teach you how to create a good headline and which words you should add into a headline to make it more click-worthy.
Plus, read this post from coschedule: How to write emotional headlines. This will definitely make your followers jump onto your blog posts.
9. Share slides
Break down your blog post into few slides to display visually the steps involved. Again, you don't have to give away everything. All you have to do is to increase their interest into the topic and make them hungry for more.
***!Important!***
Never forget to give them a call-to-action to visit your link. This is really important.
Obviously you are trying to engage your audience, so once you have their attention, it's important to close with a directive that lets them know what to do next. Without that step, people who might otherwise be interested in your blog post may leave without interacting further.
---
That's it for today.
Don't forget to download
Instagram Story Templates

for promoting blog posts on Instagram.
Sharing Blog Posts Brings Crickets?
Get my Instagram Story Templates for FREE:
that are fully customizable
will increase your post reads by 50%
make your followers WANT TO READ your posts
Just share a few details to get access 👉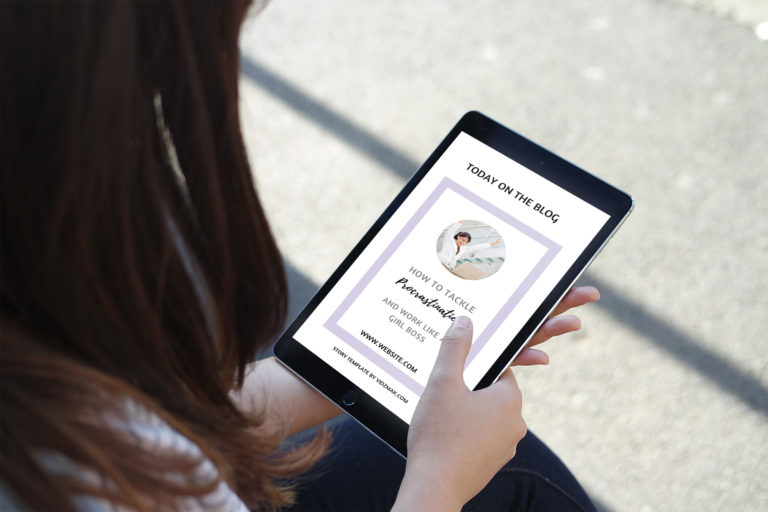 I hate spam and I know you do too. Your email is safe with me. You can unsubscribe anytime.
Share with me in the comments "Which tip did you think was the most amazing to use it on your Instagram?" Also make sure to leave your Instagram username so that I can check you out 😉
Loved this article? Be a good blogger and share it with your friends:
---
Want to get regular Instagram tips FOR FREE?
There are 3 different options for you... (hint: Smart people follow all three options to get the highest output!)
Read my articles here: If you got time, read here. If not, follow me on bloglovin to read these articles later.
Receive Instagram tips in your emails weekly: Subscribe to my popular Instagram Course for free.
Get tips on your Instagram App: Follow me on Instagram here. I created this brand new account to help you grow with me. Follow the free tips from this account before your competitors find them out.
---
Think of someone who might use this information?
SHARE IT WITH YOUR FRIENDS:
Did you find my tips helpful?

If so, feel free to buy me a coffee and support my blog.