So, you do NOT have a swipe up feature because you have less than 10,000 followers, right?
AND, you have been waiting LONG for those followers to increase and reach that 10k mark so that you can FINALLY get that swipe up feature to share your website links and bring traffic to your site.
Huh…
But those followers are just NOT increasing!
I get it…
But do you even NEED those 10k followers to share links on Instagram stories?
Because here, I am gonna share a very CREATIVE HACK that will instantly remove your frustration of story links!
FYI, here are 5 story link share hacks: How to share links on Instagram stories without 10k followers (no IGTV hack)
So, let's get started…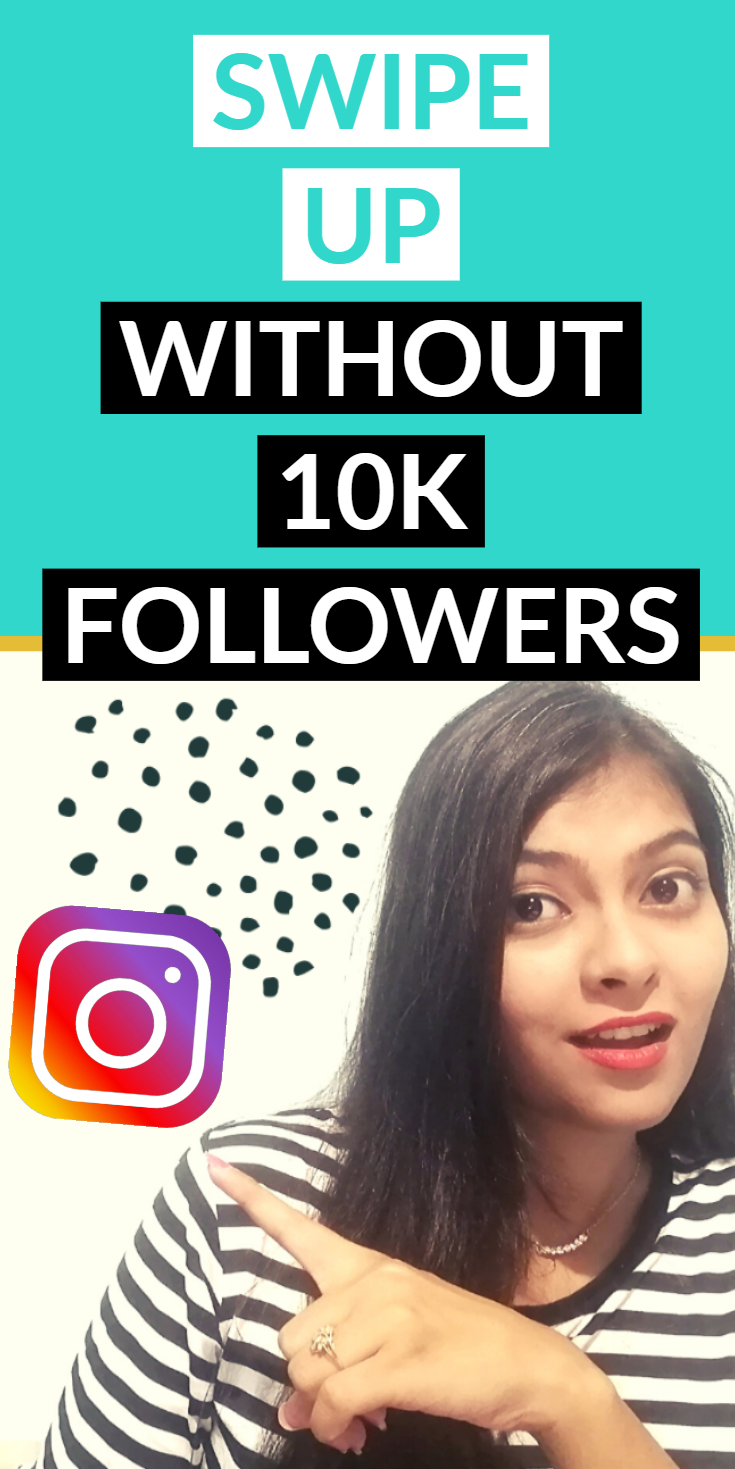 Swipe Up Feature Without 10k Followers
Watch this video below to watch the full tutorial with step-by-step instructions.
Step #1: Go to your Instagram story creator and create a story.
Like this one in the image:
(Let's say, you're sharing a link to one of your blog posts)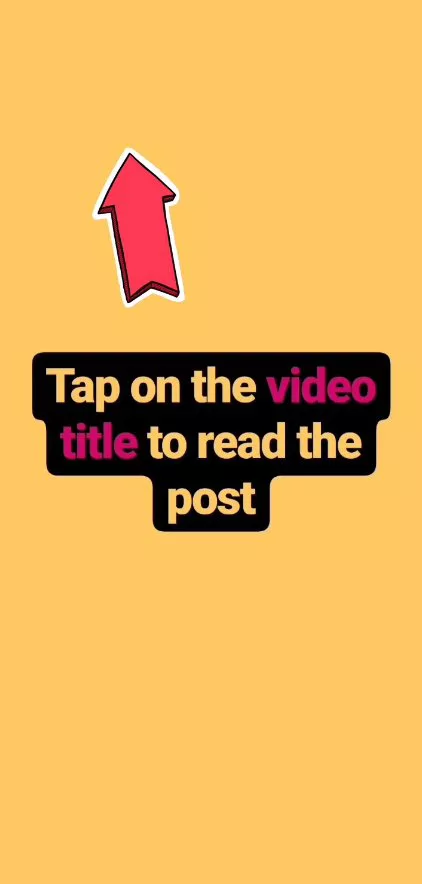 Note: Make sure your story says something like this "Tap on the video title to read the blog post" or "Tap on the video title to watch the video".
And, also make sure that you point in the top left direction with an arrow just as it is shown in the image above.
Step #2: Save the story to your phone.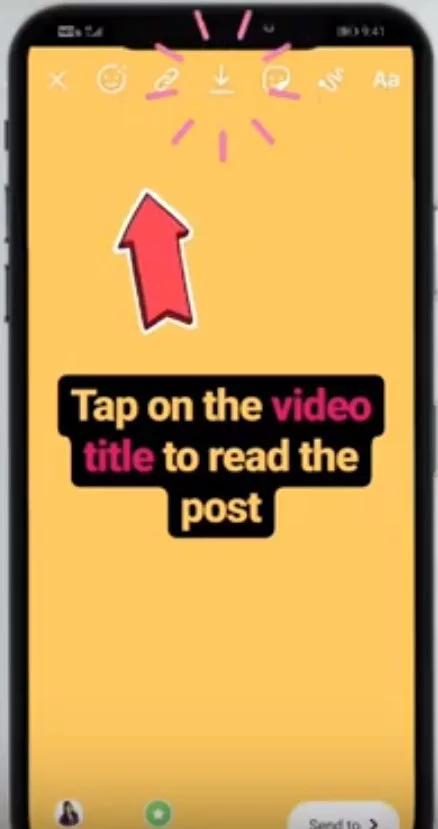 Step #3: Open a video editing app and expand the story to a 1 minute video.
I use Quik app for video editing and it works fine because it's free + it doesn't add its watermark in the exported videos. Win-win.
If you want to watch the tutorial of how to expand the story to a one-minute video, watch the video above, it includes everything in detail.
Step #4: Upload the video to IGTV
While uploading the video to IGTV, these are the things you have to do:
Title: Make sure your IGTV title says "Click on me" or something like "Click here to read the blog post"
Description: This is where you insert the ACTUAL link that you wanna share and bring traffic to! But make sure you make it clear that this where they are supposed to click on! Look at the image below for example: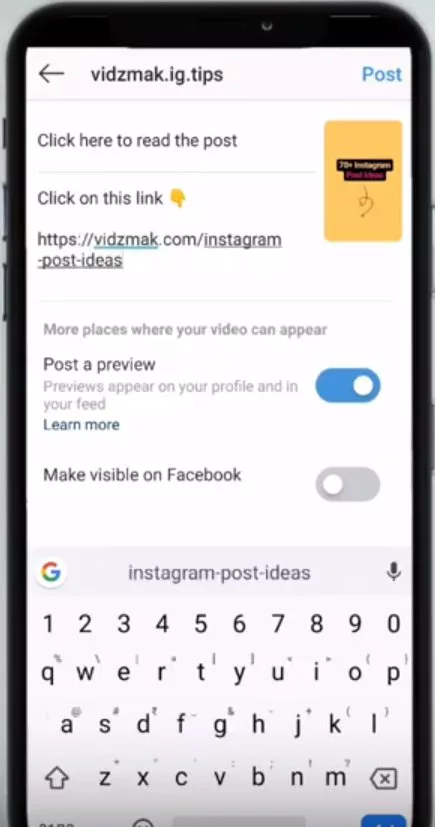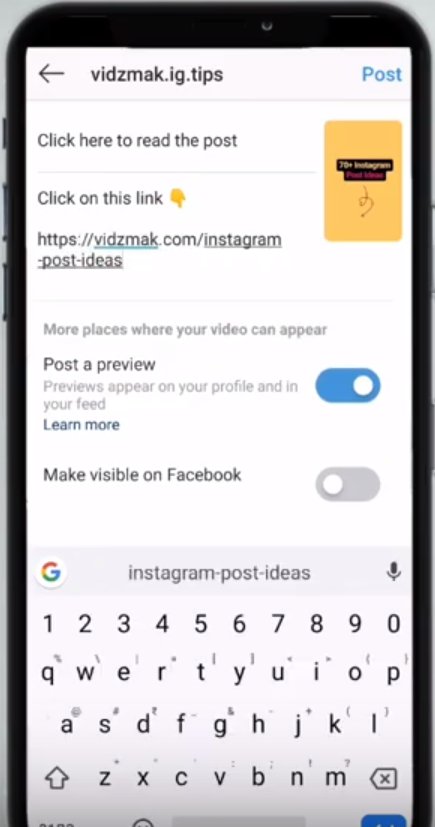 3. Turn OFF the "Post a Preview Option so that your IGTV video does not get posted on your Instagram feed.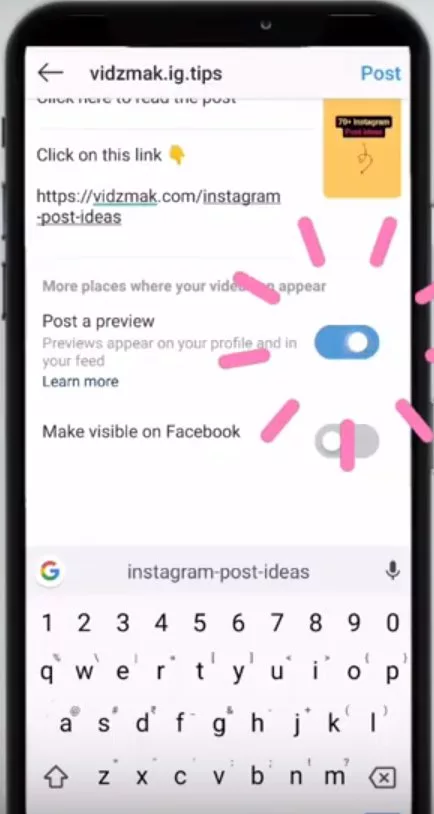 Step #5: Share your story with the swipe up link to IGTV
Now, go to the Instagram story creator and you'll see that swipe up link option coming up over there.
So, create your story and then click on the swipe up link option > IGTV Video > The video you uploaded and ta-da!
Your swipe up story is created!
Now, share it with your Instagram followers.
CHECK YOUR SWIPE UP FEATURE
Checkout your story and you'll see there's your swipe up feature completely working!
It will take you to the IGTV video. But see – it tells you to click on the video title!
When you click on the video title, the description tells you to click on a link!
And there it is… You're on the exact link that you wanted to share!
There's your swipe up feature! Yay 🎉
HAND-PICKED RECOMMENDATION: 5 story link share hacks: How to share links on Instagram stories without 10k followers (no IGTV hack)
SUMMARY
So, here's the summary of how to get the swipe up feature on Instagram story without having 10,000 followers:
Go to your Instagram story creator and create a story that says "Tap on the video title to read the post"
Save the story to your phone
Open a video editing app and expand the story to a 1-minute video
Upload the video to IGTV
Share your story with the swipe up link. Yay 🎉