Pinterest can be a great blog traffic booster…
…only if you know how to use it to your advantage!
You might already be getting some form of traffic from Pinterest but you want more!
Have you heard of manual pinning on Pinterest? Everyone's been talking about it ever since
Carly Campbell
found
this amazing technique
 that she uses to boost her traffic! And it seems like there is some secret that she knows about Pinterest that you don't!
Don't worry, today in this guide I'm going to talk about some of the very least known manual pinning techniques that is definitely gonna help you boost blog traffic.
These techniques have the ability to super-boost blog traffic.
I'm very well confident that you'll find a few techniques that you never heard or known about! So, read every single point in detail!
Why are we looking for more traffic? I only care for more money!
Look at it this way:
If there's no one visiting your site, who's gonna purchase stuff from your links?
More traffic = More income
So, first, we need to boost blog traffic, and then blog income, right?
If you're new to blogging and can't seem to find a road-map to success or find yourself clueless about what to do next, here's my course for you – it's a 5-day, FREE course. So, chill!
5-day Blogging Course for FREE:
Started a blog, but can't find success?
Join my Set your Blog to Success (SBS) Course to learn:
How to set the foundation for your blog so you're set for success
How to plan your blog in order to attract the RIGHT audience
The #1 thing you can do to convert your blog visitor into a life-time blog reader & fan
The #1 search engine you will master that will start bringing you traffic in a week.
Now that we are done with that, let's dive in.
RECOMMENDED READING:
---
Pinning to more boards will NOT help boost blog traffic!
Shocked?
It's true, babes!
A few weeks ago, I used to re-pin one pin to 3-4 of my group boards (obviously in a non-spammy way), but I was getting the same old low traffic from Pinterest.
A few days ago, I changed my strategy and started pinning one pin to only one of the closely related group boards. And my traffic, shockingly, increased!
The number of users that I had visited my blog by the time I woke up was previously the TOTAL number of visitors for the whole day! That's something interesting and, I decided to share it.
Seriously, I don't know what Pinterest is doing in the background. But, if you are manually pinning, you need to pin one pin only to one related group board at a time. It's fine if you re-pin the pin again the same day. But, don't do it back to back. I think the Pinterest algorithm does not like this and reduces the pin's reach!
If you want to give one blog post more traffic, then create 3-4 pins for that blog post, but re-pin one pin to only one group board! That way, you're giving your blog post more ways to get exposure and making the Pinterest algorithm happy as well!
Update: If you want to pin the same pin to more than one boards in one shot, make sure you pin other pins in between. Don't pin the same pin back to back to different group boards.
Take Away?

Create 4-5 pins for a single blog post, and re-pin each pin to only one group board at a time.
Pin more than once in a day!
Before you roll your eyes, I know this should go without saying…
Then why did I include this?
Because I know some of the "busy" manual pinning bloggers pin only once in a day or sometimes once in 2 days.
A BIG-FAT MISTAKE!
I used to do this when I was new to blogging, and hence I want to provide those bloggers, who are like me, an advice that they should pin AT-LEAST twice a day. Period.
If you find it difficult, block your time at-least twice in a day just for Pinterest. Pinterest awards those who visits Pinterest again and again.
What I like to do is, I set my alarm twice in a day and pin at those times. I also start pinning as soon as I wake up. So it's three times in a day and I'm seeing huge positive changes in my Pinterest traffic after I've applied these changes to my schedule…
Take Away?

Set an alarm right now for pinning your pins twice in a day. Trust me, if you're manually pinning, this will hugely increase your blog traffic.
---
RECOMMENDED READING:
---
Use Activity Tab
Go to your Pinterest profile and find the tab "Activity" and re-pin these pins to relevant boards.
These are the pins saved directly from your website to Pinterest, and hence these are completely new pins saved by 'others'. So, if you give these pins a boost, they will boost your traffic – well, because you're re-pinning other's content!
I've done this and seen major boost in my blog traffic and so should you too.
Note: If this is a completely new trick for you, i.e., if you have never re-pinned content from the activity tab, then you will have many such pins in your activity tab. So, in order to give them a boost, don't just sit in one round and re-pin all of those. Take a bunch of those everyday and make note of which ones you've pinned and which ones you've not. This way, you'll boost your traffic everyday!
Create a secret board to boost blog traffic for new posts instantly
Go to your Pinterest Analytics and find the most re-pinned pins from each blog post.
Put all these pins in a single secret board. Then, pin from this board everyday to different related group boards.
Since this board has the highest re-pinned pins, Pinterest gives pins from this board higher reach.
NOW, the next time you write a new blog post, the first board that you pin its pin to is this secret board. This way, your new pin will receive higher reach from the very beginning & hence boost blog traffic from the very beginning because it's a part of high re-pinning board! So simple, right?
---
RECOMMENDED READING:
---
Do Pinterest SEO
You might have heard people say that Pinterest is not a social media, and, in fact, a search engine.
So, you have to do some SEO to your pins for the Pinterest search engine to find your content…
But, the question is…
How do you do Pinterest SEO?
When you create a new pin, go to the Pinterest Search bar and search for your keyword there. Now, pay attention to the suggestions that come up as soon as you write your keyword. Look at image below: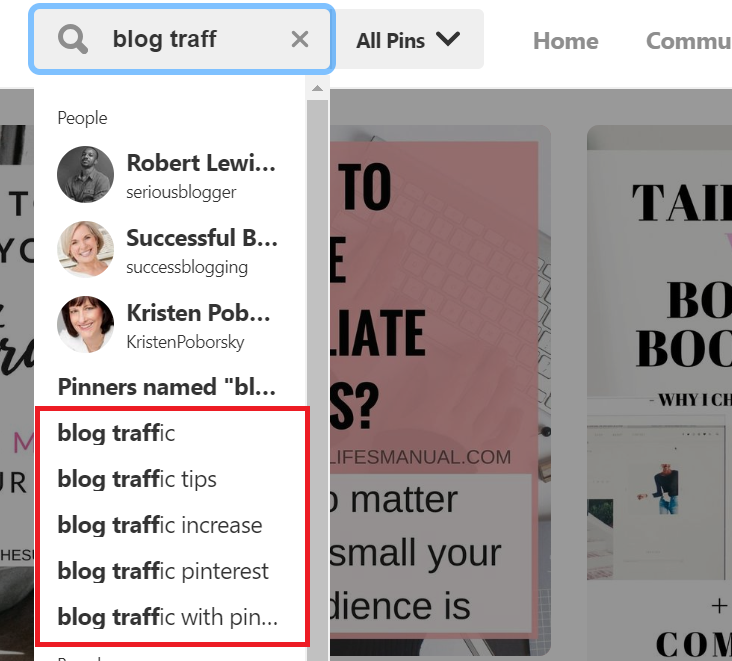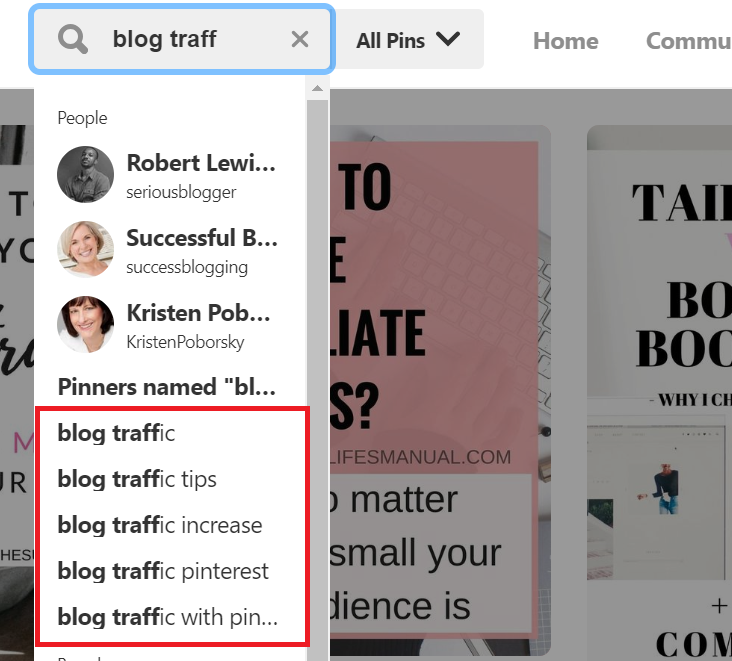 The suggested keywords are those keywords that are searched the most, and hence, it makes sense to insert these keywords in your pin descriptions.
But make sure, you insert these keywords in a readable format. Don't stuff pin descriptions with keywords. This is also good for getting traffic from Google!
So whenever someone will search for those keywords, your pins with those keywords in it will come forward – because you did SEO on them…
Pinterest SEO is the best way to boost blog traffic without doing much work from our side. Just set them once, & the pins will make their way to people by themselves (through search, of course).
---
RECOMMENDED READING:
A whole bunch of manual pinning strategies
No, the above strategies did not come to my mind instantaneously. These are the strategies that I applied above
these manual pinning strategies
. All of my strategies that I explained before are nothing compared to these strategies.
It is the most in-depth and the most neat Pinterest strategy that works like a charm. These strategies alone gives this woman more than 10,000 page-views per day. Why don't you look at the proof in the image below…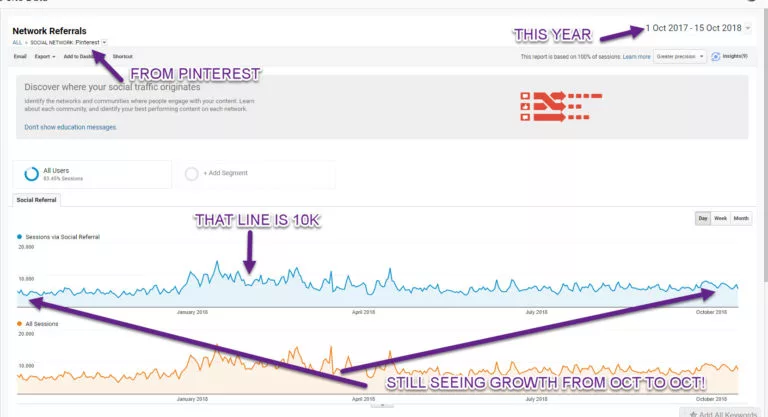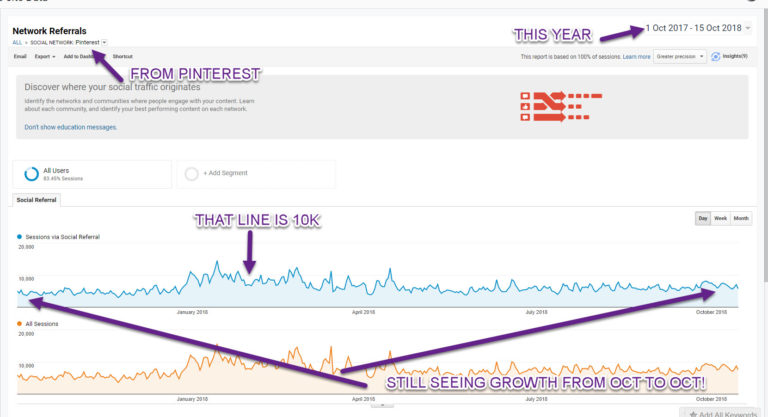 This crazy blog traffic can be yours…
The picture above shows the crazy traffic, all from Pinterest!
The good news is that if you use the same code LASTCHANCE and purchase the course before 29th Oct, you'll get $15 OFF on that course as well. Double offer!
---
RECOMMENDED READING:
Hope you learned something new from this, if you did, don't forget to share these ideas with your friends.