Starting on Instagram with a Solid Foundation Challenge – Lesson 5
---
Today, I'm going to share what should be your content strategy on the first day of Instagram to build a SOLID foundation right from the beginning!
👉 Read until the end, I have to tell you something special 🎁
So, these are the first day posts you must put out, in order to build a foundation base from the very beginning:
#1
POSTS
First post: Introduce yourself and why this account, with a selfie of yours
Second post: Provide a freebie (a really big one that gives a quick win into on of their major problem)
Third post: Why this account is all about them, not about you. Ask for their biggest struggle when it comes to (your niche).
#2
STORIES
Post stories with same details (don't forget to add hashtags to your stories)
Introduce yourself with a video of you talking to them
Next story should be, a video about how to access the freebie (not many people know what's link in bio, so you need to tell them how to access)
Next story: ask the question with the question feature – "what's their biggest struggle when it comes to…"
#3
HIGHLIGHT
Add these stories to a highlight named -> Start Here.
#4
INVITE
Invite your subscribers and other social media friends to follow you on Instagram.
There you have it. Now you have a well-thought Instagram strategy that will attract your audience to your account. This is what we call an Instagram content strategy. A content strategy is well-thought and built as per your business needs.
Since our business need according to our example was to build brand awareness on Instagram, our content for the whole month is going to be all about that. This will help you get recognized on Instagram and people will start jumping in to your account because they can resonate with you!
🎁 Now, tell me, how would it feel…
if you could have a fool-proof plan for you Instagram goals that gives you *real* results?
if you could have clients and/or customers coming in from Instagram every week?
Or, if you could promote your business on Instagram knowing exactly *how* (no frustration, no overwhelm)?
You could have the complete roadmap to a strategy that does NOT need to be changed with Instagram algorithm!
How would it feel?
If all you could feel was the excitement to get all of this and think about "this is what I want" then, I have something REALLY special coming in for you (Hint: It's not what you think). Keep your eyes on your inbox for it 😉
I'll see you next time, till then, bbye.🙋‍♀️ 
Best,
Vidhi
P.S. Along the this journey of 5-day challenge, we built a content strategy for starting a solid Instagram account on Instagram.
You must now be able to post on Instagram with confidence so that those posts well-align with your goals to fulfill those. I'll talk more about aligning Instagram strategy with business goals in my next few emails.
If you missed the previous lessons, you can binge-watch them here:
Lesson One – The Four Deadly Instagram Mistakes
Lesson Two – How NOT to fall into the deadly circle of Instagram
Lesson Three – Let's make an irresistible Instagram Profile
Lesson Four – Drawing Instagram Visitors to become followers!
Get More Traffic to Your Blog from Instagram
Get Instagram Story Templates for FREE:
that are fully customizable,
will increase your post reads by 50%, and
will make your followers WANT TO READ your posts.
No progress on Instagram?
Grab my Instagram Success Path for FREE.
The EXACT pathway to Instagram Success
Know where you are currently & what you need to do next.
Just provide a couple of details to download the Instagram success path.
Download your Instagram Post Checklist
Leave the guess-work behind and start using some real facts. Download my BEFORE PUBLISHING checklist that:
will make sure that your next post would be a blast
give you a clear-cut answer to whether to publish this post or dump it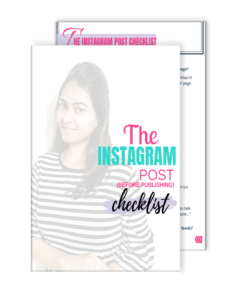 Increase engagement on your Instagram posts
by copy and pasting my Instagram captions!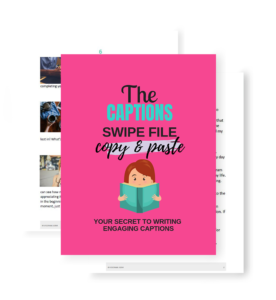 In this 5-day course, you'll learn:
Set the foundation
Plan your blog to attract RIGHT audience
Convert your blog visitors into a life-time readers
The #1 search engine you will master that will start bringing you consistent traffic in a week
Enter your info below to receive this course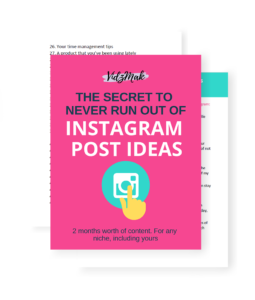 Enter your info below to download 70+ Instagram Post Ideas
Your pathway to Success
Tell me where to send the Instagram Success Path:
You'll get…
How to create a general welcome series for all the small freebies
How to align general welcome series with an email course freebie
How to create a regular list to which you can send your "regular" emails (without worrying about clashing with automations and sending 2 emails in a day!)
…and more!
Enter your info below to learn Mailchimp at Advanced Level
You're just a few steps away…
You will receive the 5-day course lessons straight in your inbox.
To receive those, please provide your name and email address.
FREE 90-DAY INSTAGRAM PLAN
Get the 3-month Instagram Plan schedule + content calendar
Roadmap to your first 1000 followers in 90 days!
Enter your info below to download the Instagram Plan.
Enter your info below to register for the Bootcamp