140+ Instagram Image Templates
☻ Save hours of time, stress & dollars
☻ 140+ Unique and Editable Image Templates
☻ Easy to access and edit using Canva
☻ Fully customizable to fit your brand
☻ 3 varieties of styles for 140 total templates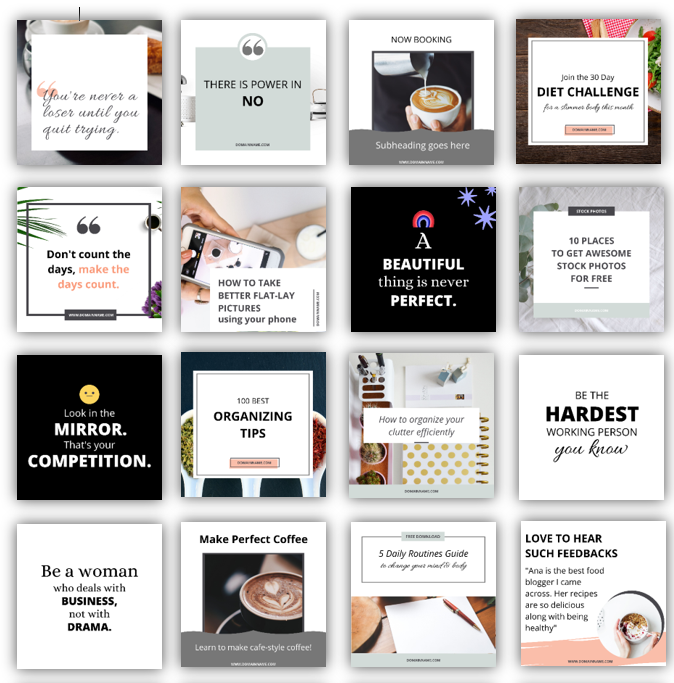 Get INSTANT Access to the Editable Instagram Image Templates Now
[spu popup="2434″]
[/spu]
Instant $13 off the original price of $19!
What Do You Get Inside the Instagram Image Templates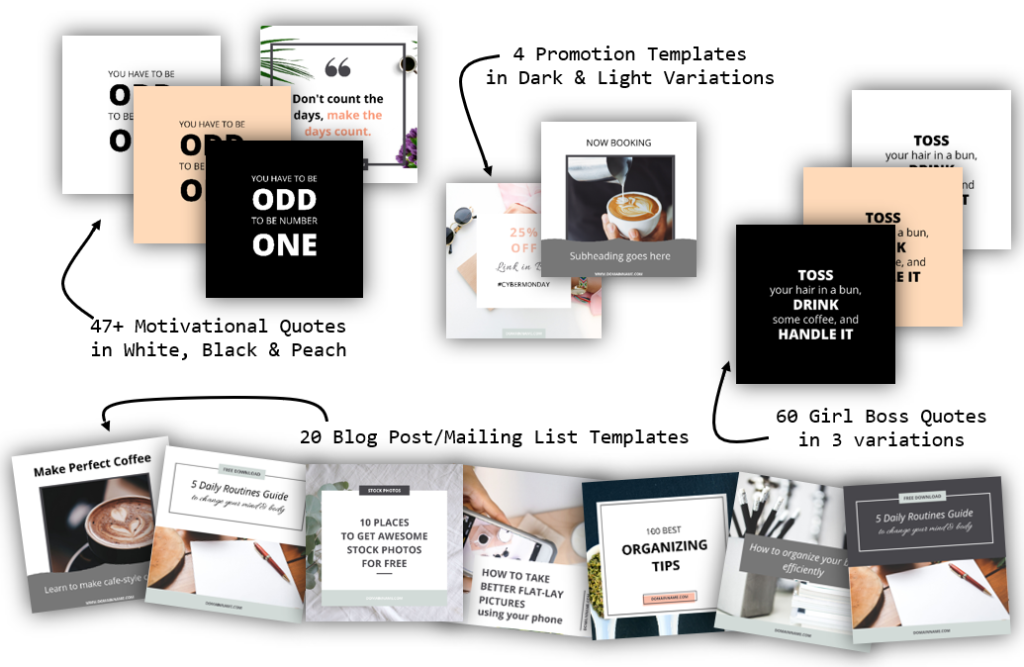 [spu popup="2434″]
[/spu]
140+ Customizable Image Templates:
Images designed beautifully to give results on Instagram

47+ Motivational Quotes to increase likes

60 Girl Boss Quotes to encourage women – proven to increase Instagram engagement

20 Blog Post & Mailing List Templates to help promote your business

4 Promo Templates to increase sales

6 feature or feedback templates to interest followers in your products
Easy to access & edit in Canva:
All quotes available in 3 variations: black, white & peach colors

All templates available in 2 variations: light & dark to suit your brand needs

Easy to edit. No advanced skills needed.

Easily downloadable with one-click from Canva.
Get better results from your Instagram efforts!
Post consistently on Instagram without working too hard

Increase engagement – more comments & likes

Save time & use it to focus on your business

Pre-built image templates that work for every niche
Download ready-to-post images or customize to your brand style:
Each image is 2048 x 2048 pixels – ideal size for Instagram.

Easily customize to add logo, change fonts, colors, website URL to make each image fit your unique brand & business style.
Get INSTANT Access to the Editable Instagram Image Templates Now
[spu popup="2434″]
[/spu]
Instant $13 off the original price of $19!
Got questions?
[expand title="What software program do I need to edit the images?"]
The image templates can be accessed using canva.com which is a free website & easy to use. This means you do not need to invest in anything else after purchasing these images.[/expand]
[expand title="What size are the images?"]
The images are 2048 x 2048 size which is an ideal size for an Instagram image.[/expand]
[expand title="My niche is different. How do I know whether these images will work for me?"]
These images are primarily designed for small business owners & solopreneurs like bloggers, coaches, infopreneurs, course creators etc. who wear all the hats & find it exhausting to spend time on social media.
So, these images are primarily to help save time from stress of posting consistently & provide you more time to focus on your business.
Also, keep in mind that these images are editable, so you can always make changes to fit it into your business style.[/expand]
[expand title="What is your refund policy?"]
Because of the nature of the product, all sales on digital downloads are non-refundable. Once purchased, the product will be yours forever. Plus, it's really tiny investment. Please get in touch via hello@vidzmak.com if you have any questions about the contents of this product.[/expand]
[expand title="How is it delivered?"]
Once your (tiny) investment has gone through, and you have filled the form thereafter (important, but takes 2 seconds), you will get two emails…
Email 1: Your receipt for payment (obvi).
Email 2: Email to confirm that your purchase has been made along with your access to all the materials.[/expand]
[expand title="I'm not sure whether this is right for me/I have other questions."]
No worries! If you're unsure, flick me an email over at hello@vidzmak.com and I'll help you figure out if it's right for you.[/expand]
[expand title="Tell me more about the 3-month subscription of Image Templates add-on."]
In this monthly subscription, you get 50 Instagram image templates each month to feed your Instagram with consistent & beautiful posts. You will get such access for 3 months, i.e., 150 more Instagram image templates!
These monthly image templates are completely unique to each other & one template never clashes with another.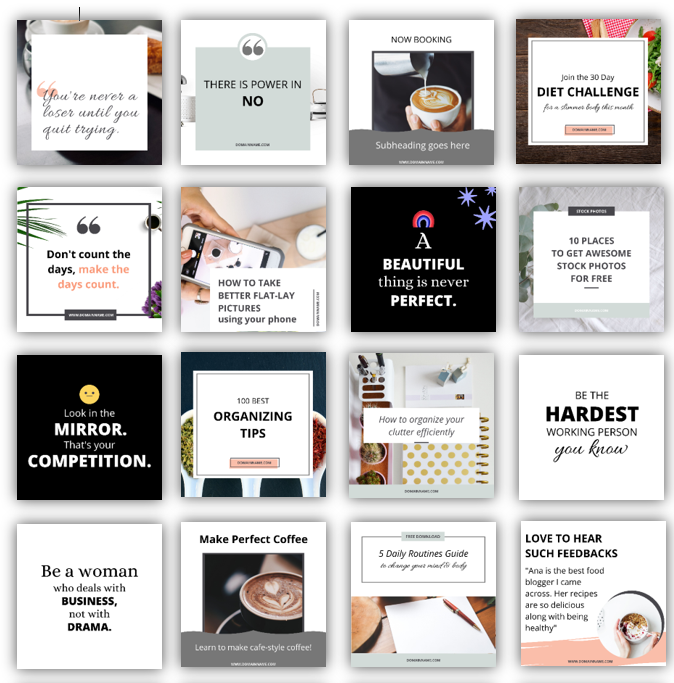 Normally this subscription model sells for $14.99 per month, but you can upgrade your order & get 3-month subscription for just $4! That's $1.3 per month! For just $4 upgrade, you will have a collection of 10 months of Instagram posts already created for you!
Just click the "Add to Cart" button below to purchase the image templates and be sure to click the "Yes please" button to add this 3-month subscription to your order.[/expand]
Get INSTANT Access to the Editable Instagram Image Templates Now
[spu popup="2434″]
[/spu]
Instant $13 off the original price of $19!