Attention: Bloggers, Coaches and Solopreneurs:
IS YOUR INSTAGRAM BRINGING YOU SALES, CUSTOMERS AND READERS?
If you said NO – then this is a gap between your Instagram Content and Business Goals.
And that is because you DON'T have a Solid Instagram Content Strategy.
INTRODUCING THE "INSTAGRAM CONTENT STRATEGY"
The wildly transforming plug-and-play formula proven to align your Instagram with your biz goals that will help you build an audience who is SUPER interested in subscribing & purchasing all your products WITHOUT playing follow-unfollow games.
(Did I mention it comes with over $180 worth of free bonuses too?)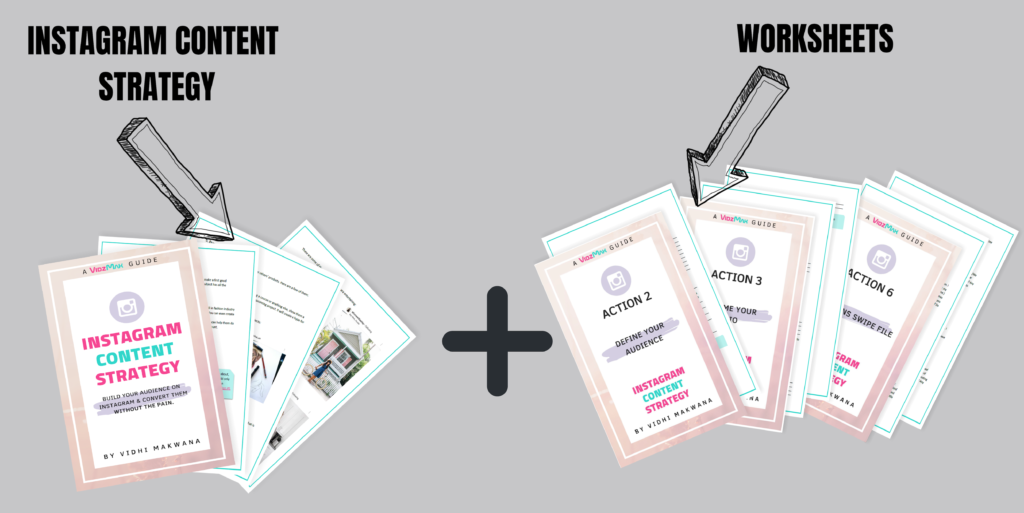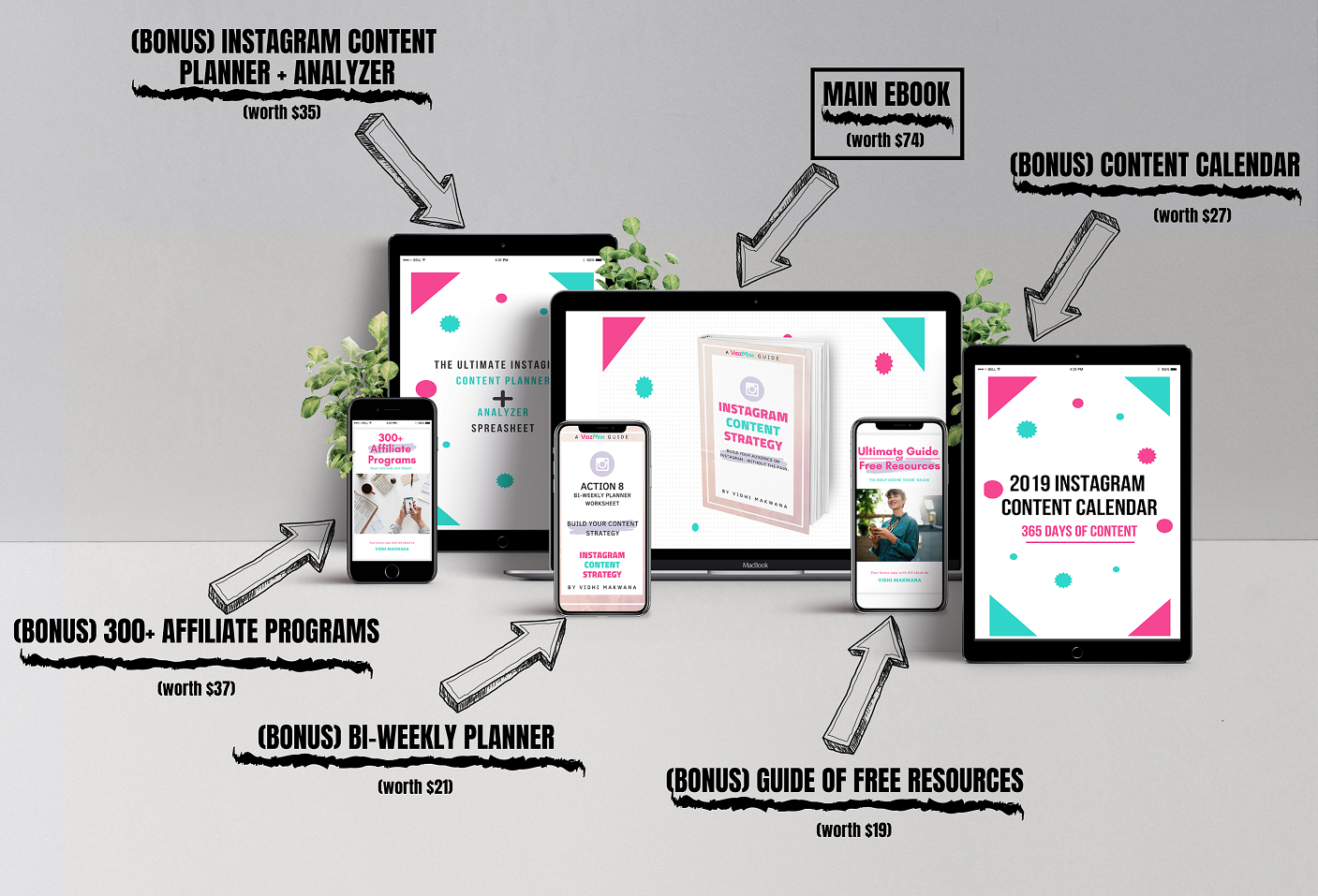 …including more than 100+ content ideas for your Instagram posts, stories, captions and highlights!
Take the burden of building an engaged audience who wants to BUY off of your already stressed shoulders for less than the cost of lunch…
$75     $47
Make posting on Instagram effortless with these swipe files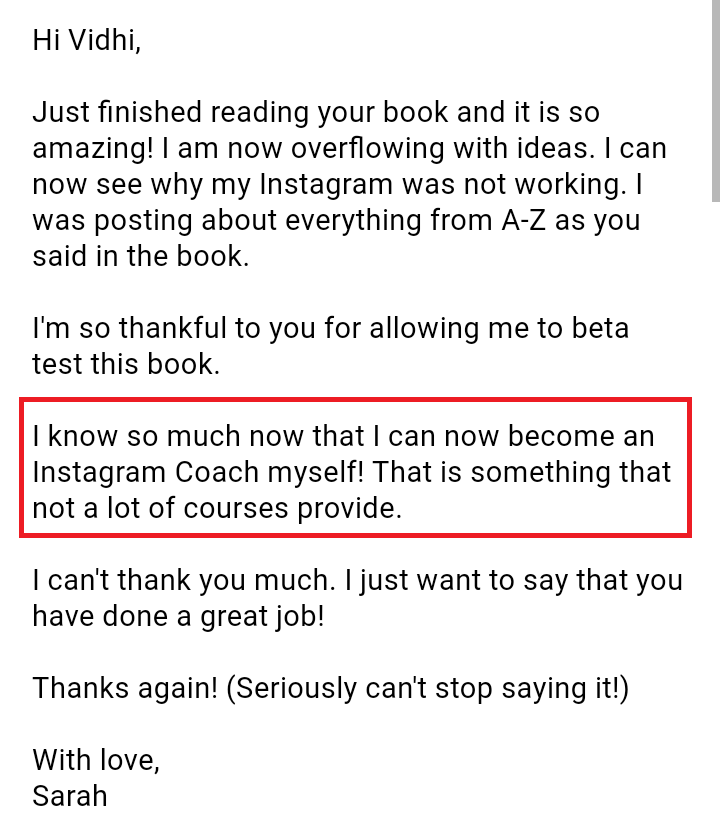 What if posting on Instagram was as effortless as picking up an idea from the ideas swipe file, choosing a caption that best suits the idea and posting it on Instagram and still "know" that it WILL fulfill your monthly business goals? Well, it sounds like a dream for a newbie on Instagram, right?
But, instead using the proven formula & calendar from this bundle, even a toddler can start promoting a business on Instagram – successfully! Pretty sweet, right?
What's included…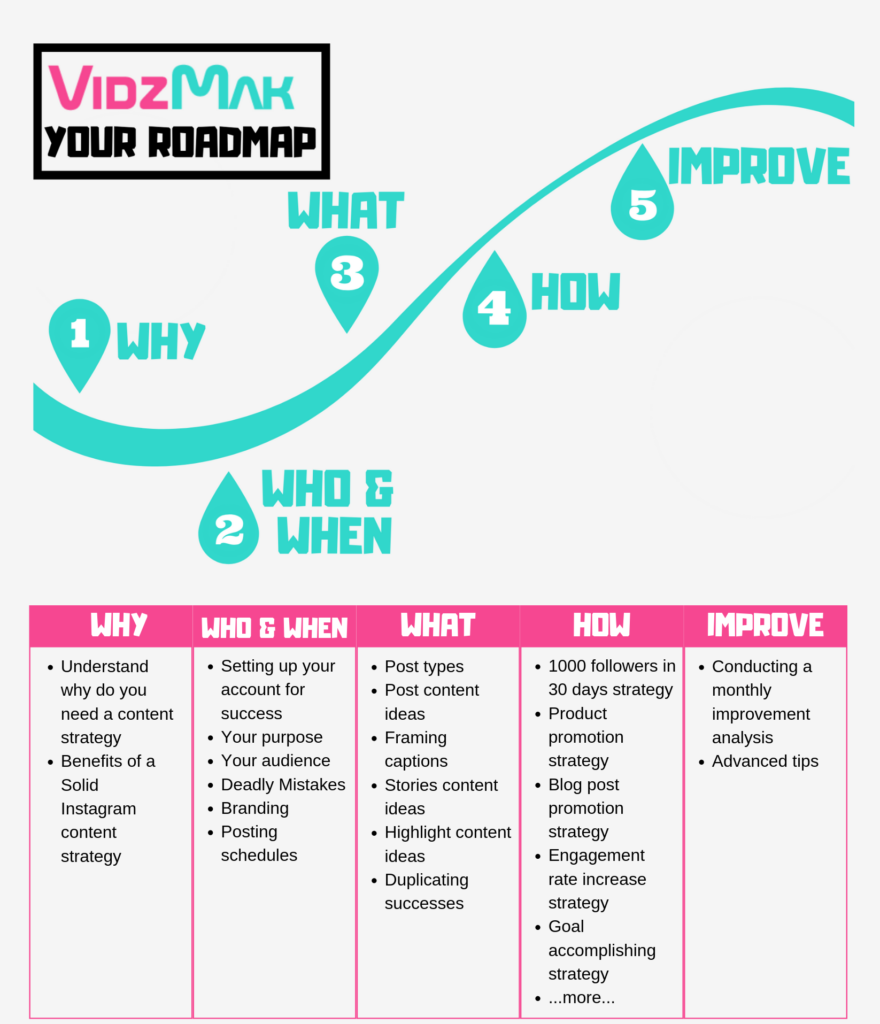 The BIGGEST strategy to grow your first (or, next) 1000 followers in the next 30 days WITHOUT spending a dime on ads (NOT just ANY followers, but your ideal followers – who will convert!)
How to align your Instagram page & your followers to YOUR business goals so you GET RESULTS instead of just shooting in the dark and hoping…
The NUMBER ONE thing you need that will keep your fans coming back for more
Why following the most 'popular' [but stupid] strategy about follow-unfollow will RETARD YOUR GROWTH on Instagram and what to do instead
The simple 30 day launch strategy that will CONVERT your followers into customers (even if you don't spend anything on ads)
How to create your own custom content strategy that works for YOU and your business goals without pulling your hair out 

(Note: This strategy alone is worth the cost of the book)

Clear and straight-forward advice that will INSTANTLY land you sponsorship opportunities from established brands (if that's your REAL goal)
Strategies that will instantly beat Instagram algorithm (No more worrying about algorithm changes)
Oh, and there's bonuses too: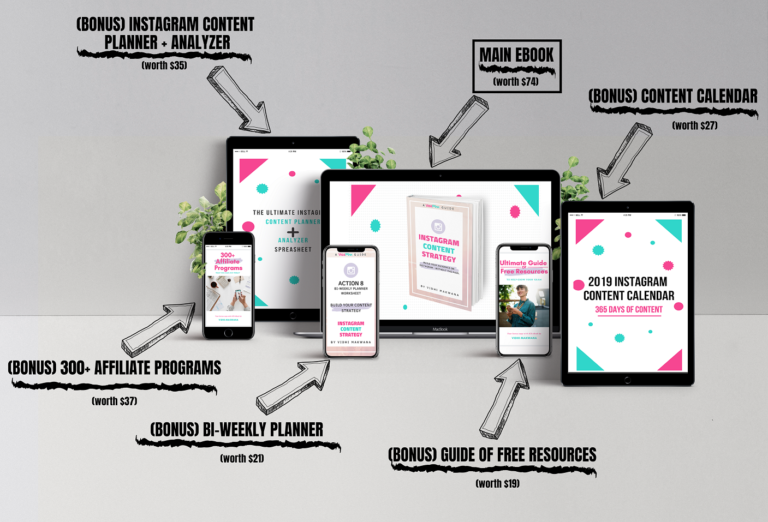 Bonus #1:   Weekly Instagram Planner Course (Value $83)
Including:
Bi-weekly Instagram Planner (Value $21)
"Caption that Sells" Caption Template (Value $27)
Instagram Post Planner & Tracker (Value $35)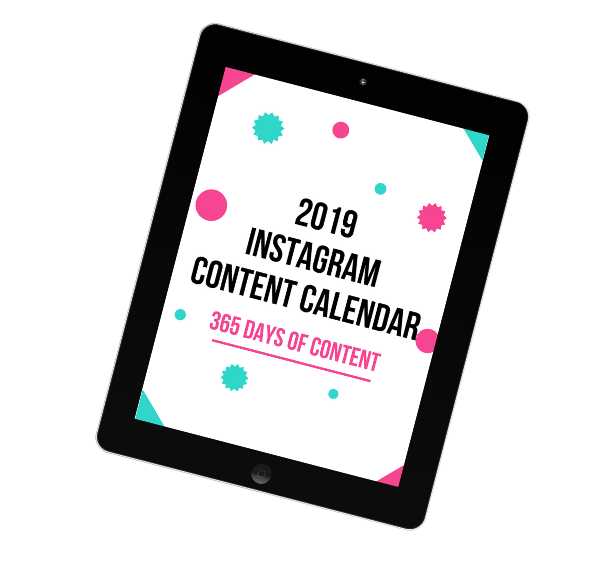 Bonus #2:   Instagram Content Calendar (Value $47)
Let's plan Instagram content to align it with YOUR business goals. You'll get already planned Instagram content that you can use as it is OR tweak with your own content to fulfill YOUR business goals. This calendar will help you keep every bit of your Instagram marketing efforts help you reach your goals.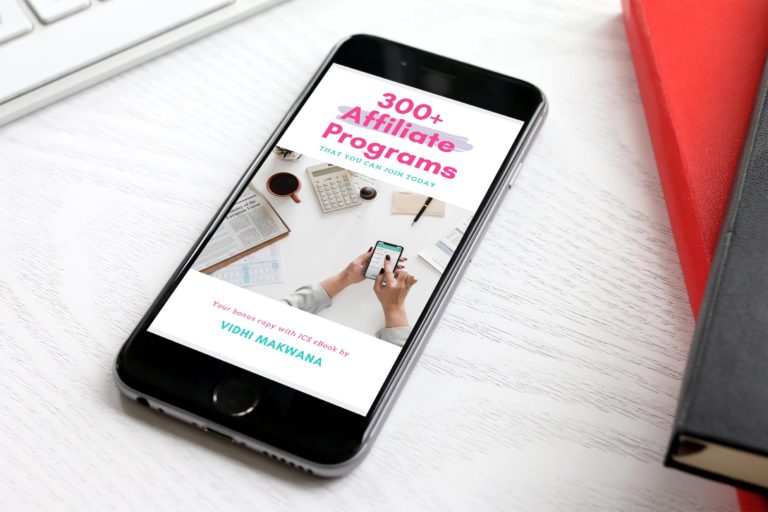 Bonus #3:   300+ Affiliate Programs List (Value $37)
Let's make some money, ehh? To kickstart your money making journey on Instagram, I have compiled a list of more than 300 affiliate programs (for ANY niche).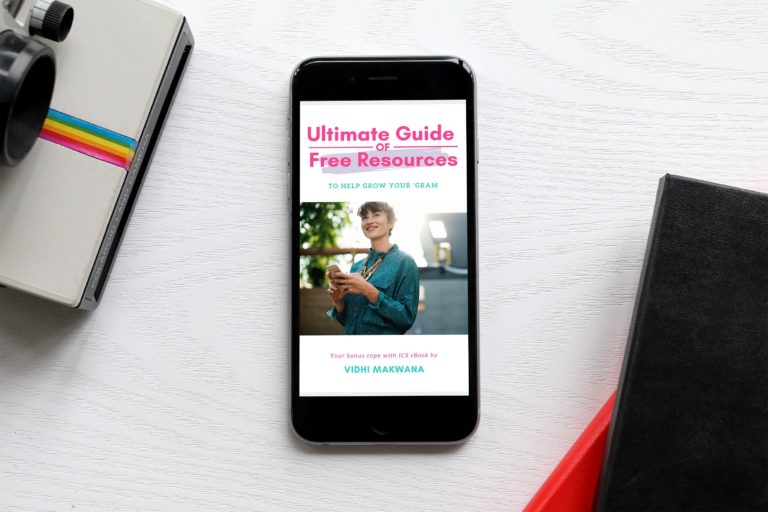 Bonus #4:   Ultimate guide of FREE Resources for Instagram (Value $19)
If my Instagram Content Strategy doesn't feed your soul, you are also getting a list of FREE RESOURCES for Instagram.
Grab The Instagram Content Strategy + All 4 Bonuses for only $47 Today.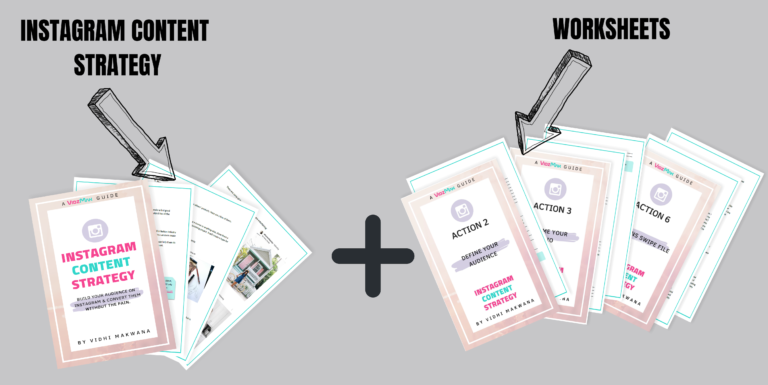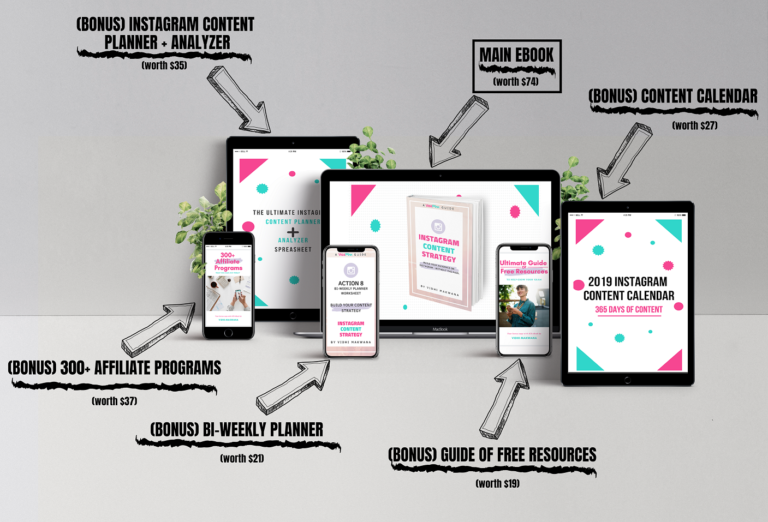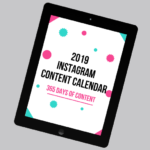 Got questions?
Is Instagram Content Strategy completely theoretical or does it have real, actionable steps?

Heya! Great question! This eBook is completely filled with actionable steps. At the end of each chapter you're prompted to download a worksheet that helps you go through the steps covered in the chapter so that you can set yourself up for success.

Plus, I'll be sending you eye-opening emails from time-to-time so that you stay focused on your goals and accomplish those. You can even hit reply to my emails if you see yourself stuck at a point. So, it's a win-win for you in either of the cases!

What is your refund policy?

Because of the nature of the product, all sales on digital downloads are non-refundable. Once purchased, the product will be yours forever. Please get in touch via hello@vidzmak.com if you have any questions about the contents of this eBook.

Will Instagram Content Strategy help me get my blog noticed?

Of course. The Instagram Content Strategy goes through strategies for ANY goal you might have for your blog/business or even just for your Instagram. I have also included breakthrough strategies to promote your blog-posts to make your followers JUMP on TO READ them. So there's nothing to be worried about. If you're a blogger, I've taken care of everything you need inside.

Does the book include how to capture beautiful pictures and edit them?

Nope. Instagram Content Strategy focuses on building a solid strategy for your business goals. But yes, it covers which type of pictures get the most engagement and which type of posts you should be posting on Instagram to get the maximum output.

I have a product-based business and want to promote it on Instagram. Will this strategy work for me?

The Instagram Content Strategy works best for coaches, bloggers and solopreneurs and anyone who runs a service-based business. (Not so much e-commerce or product-based businesses).

How is it delivered?

Once your (tiny) investment has gone through, and you have filled the form thereafter (takes 2 seconds), you will get two emails…

Email 1: Your receipt for payment (obvi).

Email 2: Download links to all the bonuses & ebook. You can download all the goodies right from your email.

Do I need to have a certain kind of software or invest highly in ads to make this work?

No! Nothing fancy needed. While you CAN jump-start your audience by investing a little money in ads, but that is not a necessity.

I'm not sure whether this is right for me/I have other questions.

No worries! If you're unsure, flick me an email over at hello@vidzmak.com and I'll help you figure out if it's right for you.

Can I have link to buy again?

Sure! You can click here. Or slap the button below.
Snag your copy of the Instagram Content Strategy with over 100+ Instagram content ideas & $180+ bonuses for Just $47.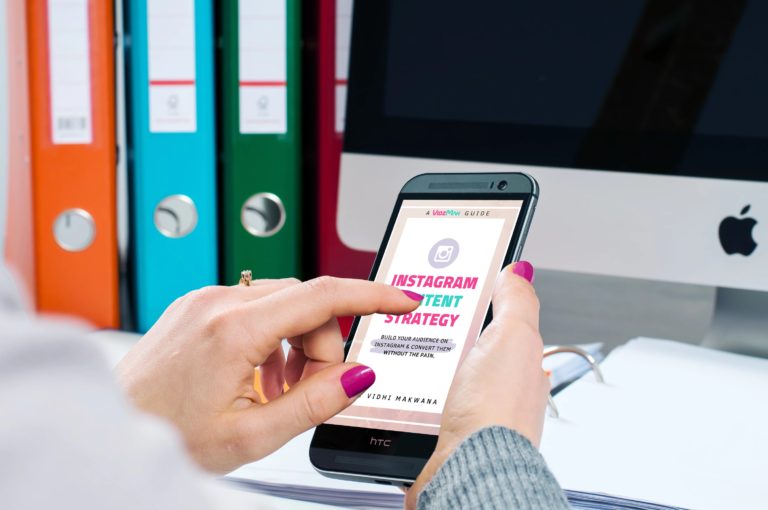 Get More Traffic to Your Blog from Instagram
Get Instagram Story Templates for FREE:
that are fully customizable,
will increase your post reads by 50%, and
will make your followers WANT TO READ your posts.
No progress on Instagram?
Grab my Instagram Success Path for FREE.
The EXACT pathway to Instagram Success
Know where you are currently & what you need to do next.
Just provide a couple of details to download the Instagram success path.
Download your Instagram Post Checklist
Leave the guess-work behind and start using some real facts. Download my BEFORE PUBLISHING checklist that:
will make sure that your next post would be a blast
give you a clear-cut answer to whether to publish this post or dump it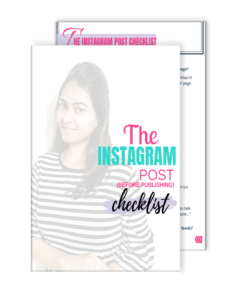 Increase engagement on your Instagram posts
by copy and pasting my Instagram captions!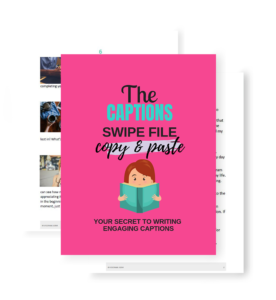 In this 5-day course, you'll learn:
Set the foundation
Plan your blog to attract RIGHT audience
Convert your blog visitors into a life-time readers
The #1 search engine you will master that will start bringing you consistent traffic in a week
Enter your info below to receive this course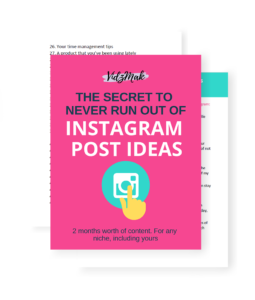 Enter your info below to download 70+ Instagram Post Ideas
Your pathway to Success
Tell me where to send the Instagram Success Path:
You'll get…
How to create a general welcome series for all the small freebies
How to align general welcome series with an email course freebie
How to create a regular list to which you can send your "regular" emails (without worrying about clashing with automations and sending 2 emails in a day!)
…and more!
Enter your info below to learn Mailchimp at Advanced Level
You're just a few steps away…
You will receive the 5-day course lessons straight in your inbox.
To receive those, please provide your name and email address.
FREE 90-DAY INSTAGRAM PLAN
Get the 3-month Instagram Plan schedule + content calendar
Roadmap to your first 1000 followers in 90 days!
Enter your info below to download the Instagram Plan.
Enter your info below to register for the Bootcamp