18 Months of Instagram Posts
♥ Saves you hours of time, stress & dollars
♥ 2019/2020 Instagram Content Calendar.
♥ It's 18 months of Instagram Content Planned Out for You.
♥ Available in 4 editable online formats & 1 printable format.
♥ Accessible on mobile as well!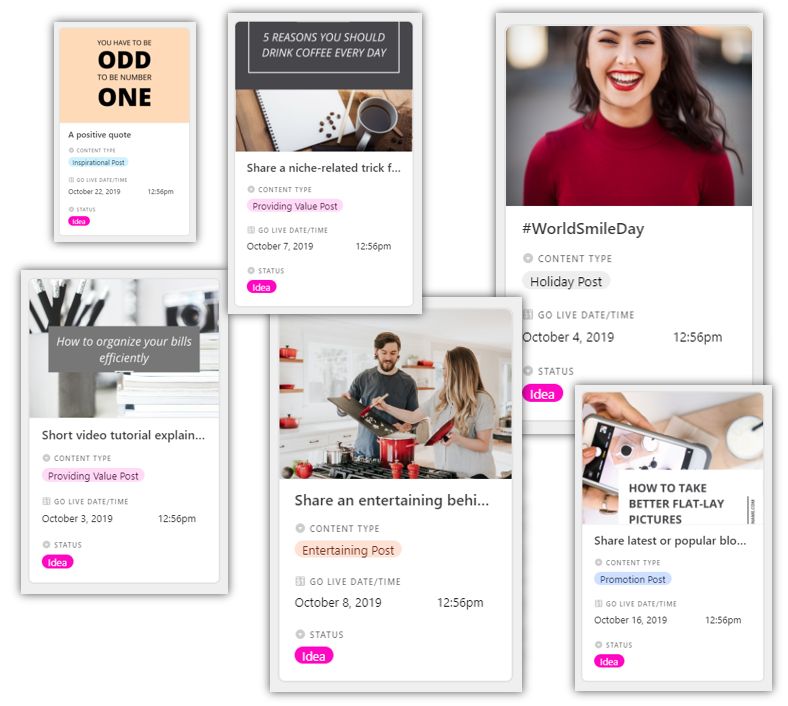 What Do You Get Inside The 2019 – 2020 Calendar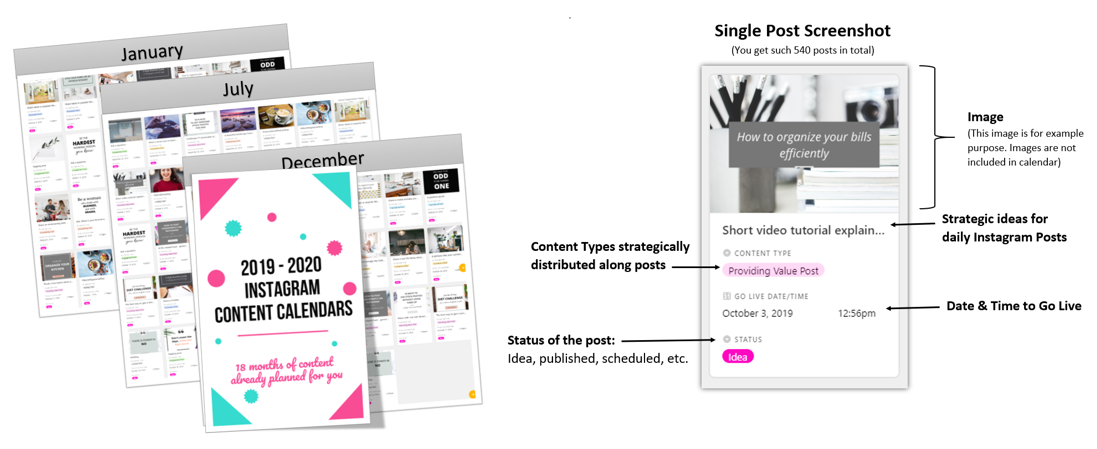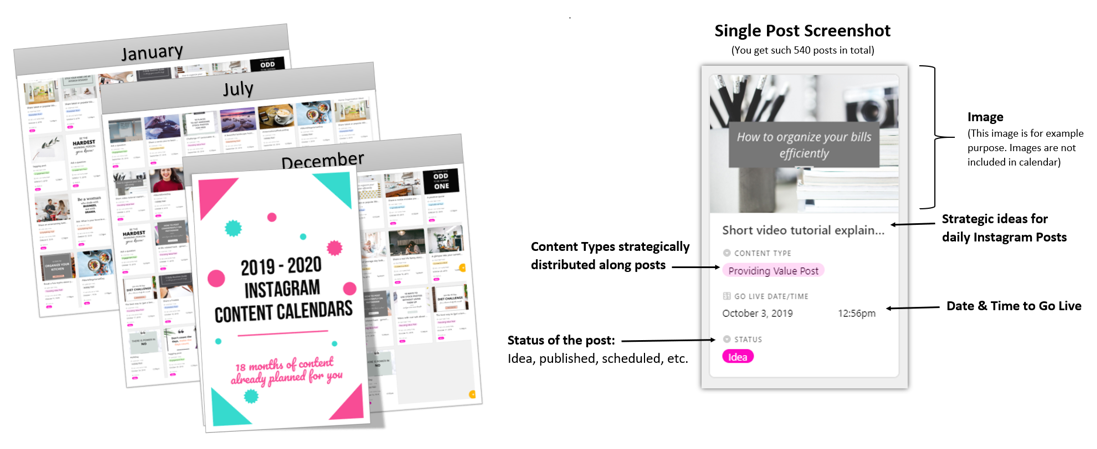 ✅ 18 Months of Instagram post ideas planned out for you! Including:
540 daily post ideas "strategically" planned out for you in a proven-to-work system for Instagram marketing

53 questions to increase engagement

59 holidays already planned within your calendar (so you never forget to celebrate them on Instagram!)

Influencer birthdays to build a solid relationship with influencers

61 Quotes that encourage and engage followers

Hashtag lists organizer & reviewer

Instagram Posts Reviewer with engagement rate calculator built-in
✅ Resources & tutorials to help you master Instagram marketing:
Video tutorials about how to use this calendar efficiently & easily tweak it to fit your unique business needs

Works for you regardless of your niche (this calendar is specifically for service-based businesses – bloggers, coaches, course creators, etc.)

You can finally get consistent with posting on Instagram AND GETTING *REAL* RESULTS!

No more stressing about what to post each and every day

Finally being able to focus on critical parts of your business (without worrying about promotion on IG!)
✅ Get better results from your Instagram efforts!
Increase engagement and sales without working too hard

No burden of planning out Instagram Content (It's already done!)

Prompt for each day about "specifically" what you should post

Save time brainstorming a content strategy & use pre-built strategy that works for every niche
✅ 5 versions of Calendars included: Editable to fit your business needs
Editable Trello Format

Editable Excel/Google Sheets Format

Editable Gallery Format

Editable Calendar Format

Printable PDF

Also accessible and editable on mobile
Want to see an example?
Here's a snapshot of a few days from the calendar. Each day has a goal with a prompt of exactly what to post to accomplish that goal for that day.
All of this is designed using a strategy proven-to-work. It's also editable so you can customize it depending on your monthly goals to fulfill your unique business needs.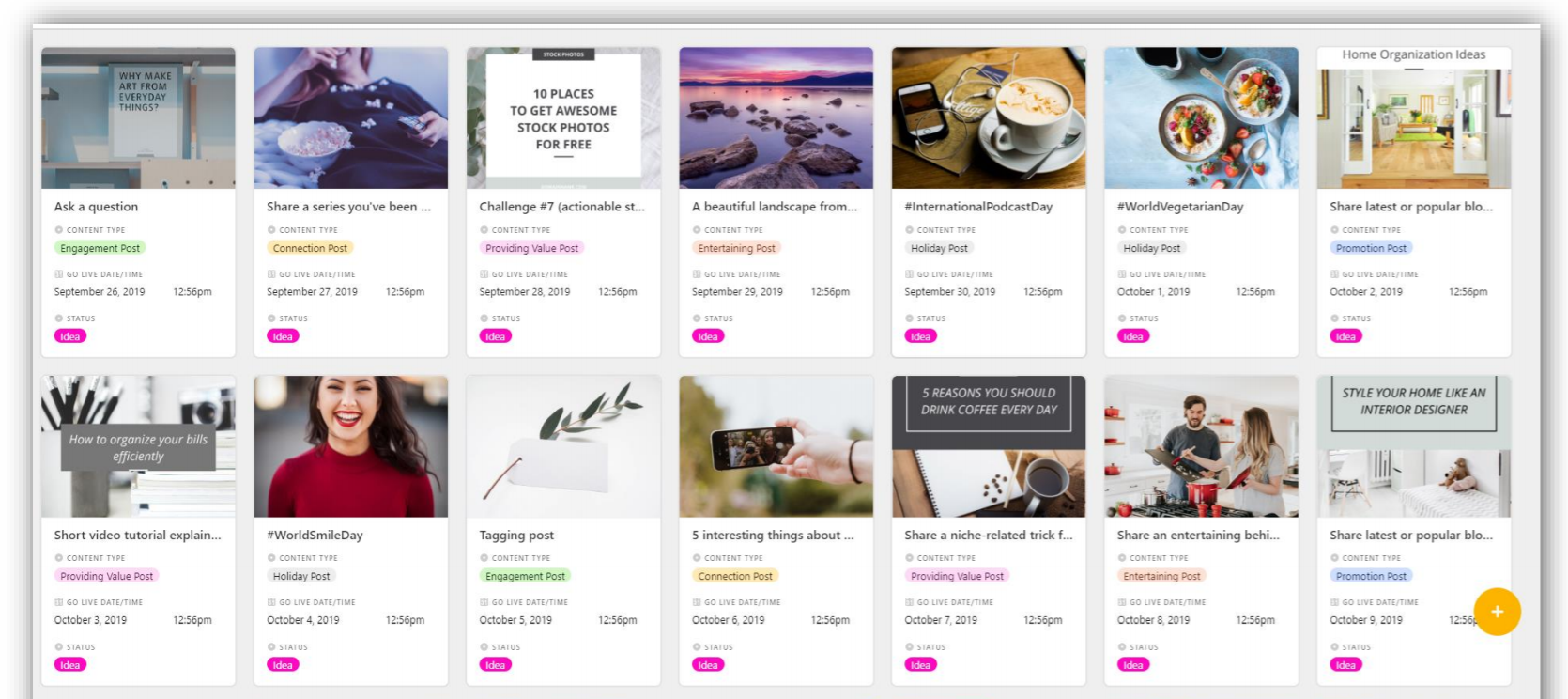 Want to Look at the Single Image Snapshot?
Here you go…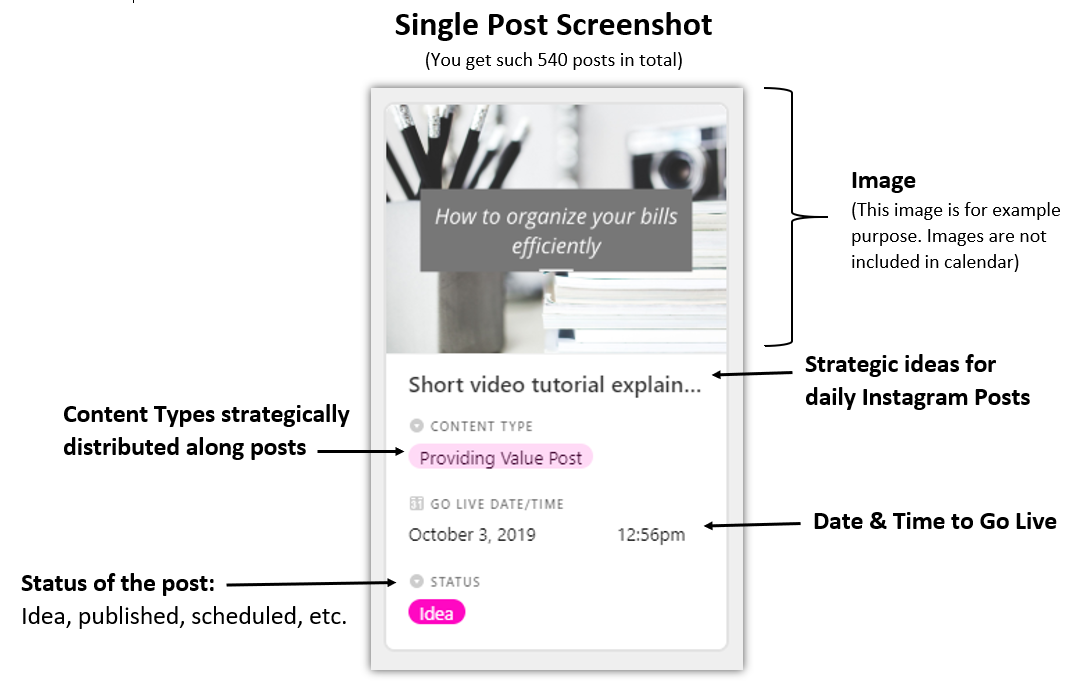 Got questions?
[expand title="But I don't have much money to spend on any expensive tool or software! Do I need to invest in anything else in order to get results?"]
No! This calendar bundle is complete in its own. You don't need to have any external skills or invest in anything else. The platform at which this calendar is built on is free forever. So, nothing special needed.[/expand]
[expand title="I'm a complete newbie on Instagram. Is this right for me? Will the calendar work for my business type?"]
If you know who you want to serve and how do you want to help them you'll do great as long as you're not dreaming of starting a local business or ecom shop. While Instagram works for those types of businesses really well, but this calendar is not specifically made for them. It's for those who are bloggers, service-based businesses, and coaches.[/expand]
[expand title="How much time will this save me?"]
Normally, people spend about 4-6 hours creating a content strategy and planning out all the posts for a week.
But, having this calendar will help you literally schedule your week's posts in less than an hour. In fact, you can even schedule your whole week's posts while travelling! That's a dream, isn't it?[/expand]
[expand title="What do I get?"]
You get all these:
The calendar with 540 days of Instagram posts planned out for you!
53 engaging questions to increase comments
61 motivational quotes to increase likes
Instagram Posts Reviewer with automatic engagement calculator
Hashtags List Reviewer
[/expand]
[expand title="What's the investment again?"]
I wanted to offer action takers my highest value without costing them too much, but still enough that they took it seriously.
However I know what it's like to be an action taker who just needs a little push which is why I'm offering the most generous value for this calendar.
It's just $37 for this calendar, since most coaching programs that will help you create a content strategy for you like this start with $50 an hour.
My goal is to help you increase your followers, engagement and authority in this online world using this calendar at the cheapest possible price.[/expand]
[expand title="What is your refund policy?"]
Because of the nature of the product, all sales on digital downloads are non-refundable. Once purchased, the product will be yours forever. Plus, it's really tiny investment. Please get in touch via hello@vidzmak.com if you have any questions about the contents of this eBook.[/expand]
[expand title="How to order the calendar?"]
Step 1: Once you click on the "Add to cart" button, you will be taken to sign up to my private course website. This is where the calendar and other materials are hosted.
Step 2: Click on "Sign up" to go to the secure payments page and complete the payment using any card.
Step 3: After your payment is done, you can login to my course site with the same details you signed up to it.
That's it. [/expand]
[expand title="I'm not sure whether this is right for me/I have other questions."]
No worries! If you're unsure, flick me an email over at hello@vidzmak.com and I'll help you figure out if it's right for you.[/expand]
[expand title="Can I have link to buy again?"]
Sure! You can click here. Or slap the button below.[/expand]
Snag your Instagram Content Calendar with 540 Days of Instagram Post Ideas for Just $37.