Disclosure: Posts may contain affiliate links, meaning, at no additional cost to you, I may earn a commission if you click through and make a purchase.
What are you struggling with right now?
Pick one of the 2 options below & I'll instantly send you the course!
---
Do you ever think about other Instagrammers how the heck they make their followers love them so much?
If yes, let me ask you this then:
Do you post just anything on Instagram? Or do you think about your followers before posting?
Guess what!?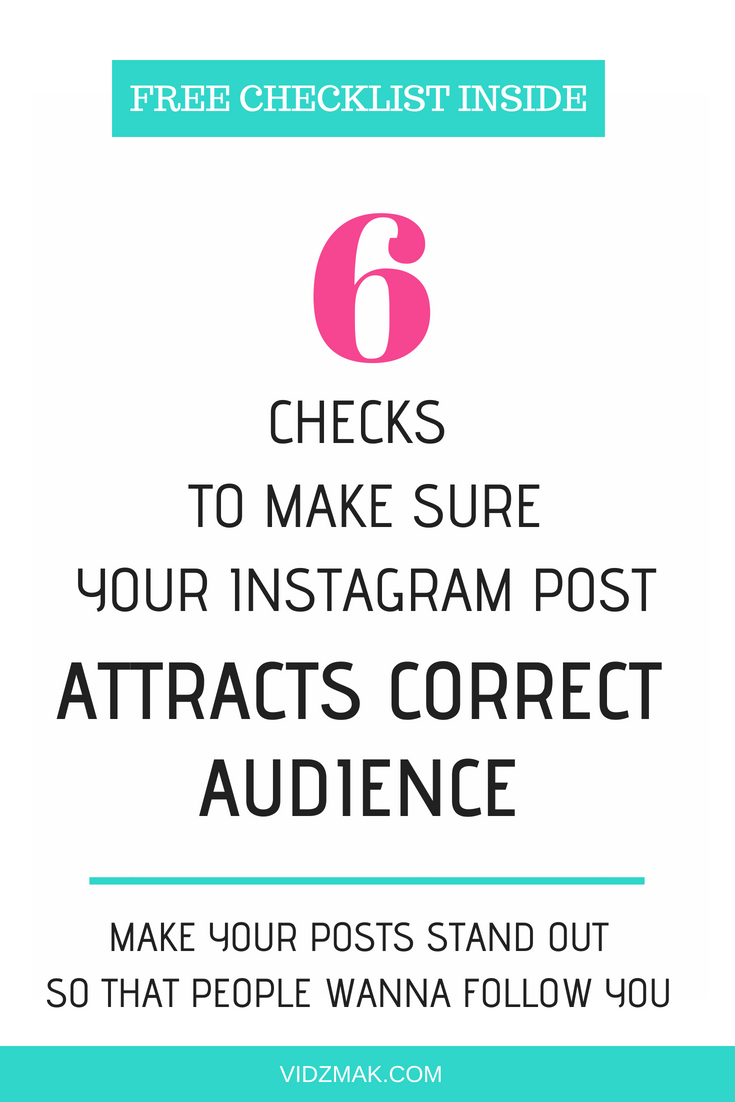 Here I have a complete checklist to make sure that you're posting strategically so that PEOPLE LOVE WHAT YOU POST.
Ready?
Download the 5-Minute (Before-Publishing) Instagram Post Checklist
…to make sure your post becomes a success!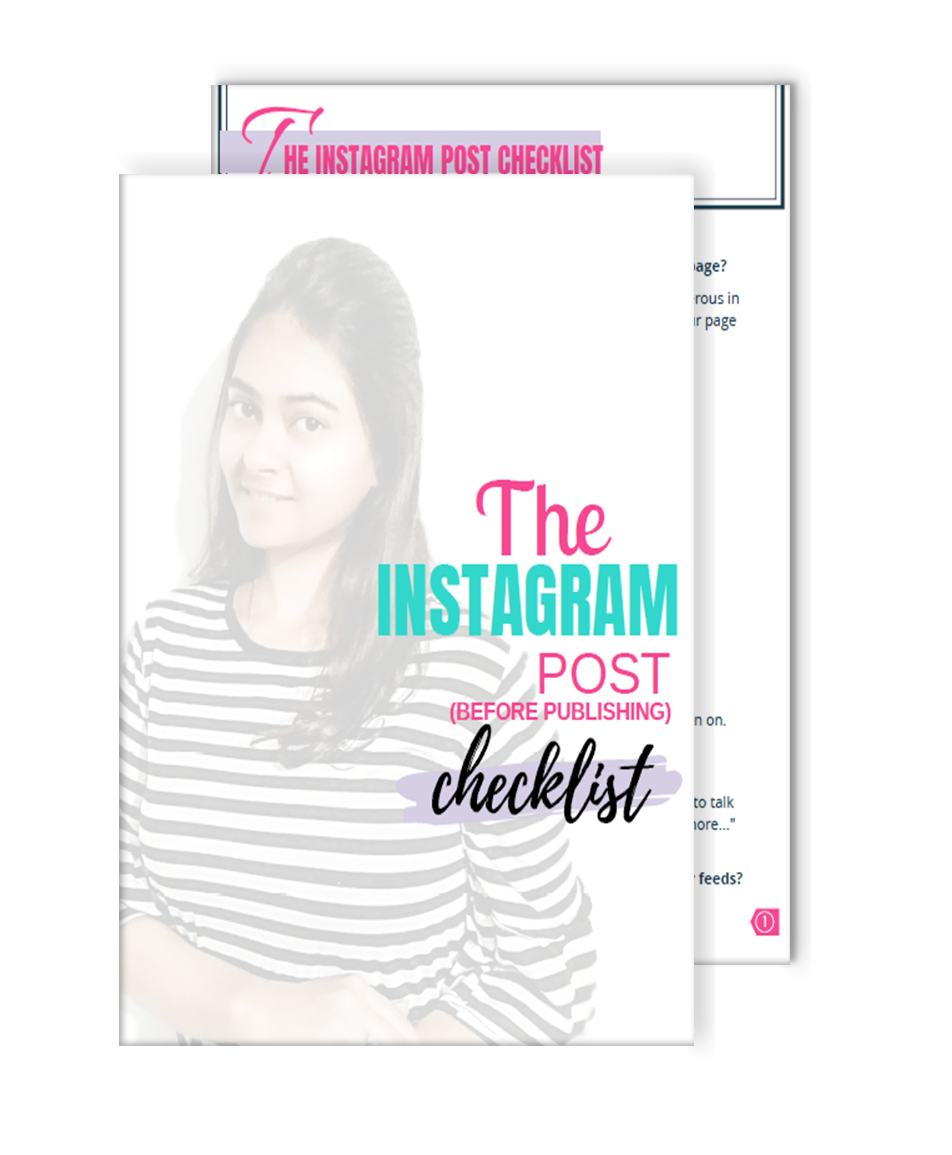 Ask these to yourself before you post anything on Instagram:
1. Does this post give my followers a reason to come back to my page?
Seriously, you followers follow you to get something in return. You post should provide something valuable so that they keep coming back to your page and love you.
2. Is my post valuable?
You should know what type of value you are providing to your audience. Your post should have something that makes your audience to notice you.
Are your posts meaningful, entertaining, interesting, funny, informative, resourceful, emotional or motivational?
3. Does this image resonates with my brand?
Do you have a brand strategy? If you are a blogger or if you have a website, do you take interest in keeping the same personality all over the internet? Once someone visits your website, and then your Instagram, they should instantly get a vibe that they have seen something like this before. They have been there.
Social media is a chance for you to create a recognition for your brand. Don't lose that opportunity to give vague signals to your audience. Use this opportunity in your favor. Use the same colors, same style, textures, fonts to create a visually cohesive brand all over.
4. Does this image and the caption keep up my brand personality (or create one if you're starting out)?
You know that you should have a brand personality, right? Your brand personality includes that way you talk to your audience, your voice, your writing style is it formal or informal. Do you keep things formal or talk on a much deeper and personal level like a friend?
All these things come under brand personality. It should be consistent everywhere, whether it's your blog or your social media. Keep your Instagram captions and image according to your brand personality.
5. My captions
Instead of stating what the picture is about, consider what supporting stories you could tell that would add context to your followers who likely don't know much about your brand yet. Your caption should be engaging for your readers. To make your captions engaging: read this post.
6. Have I added a call-to-action?
Have you added a call-to-action at the end of each caption to invite people to take some action? It may be to comment, like or follow a link. Just encourage them to engage.
Don't forget to download the checklist (It has some extra checkpoints)
Download the 5-Minute (Before-Publishing) Instagram Post Checklist
…to make sure your post becomes a success!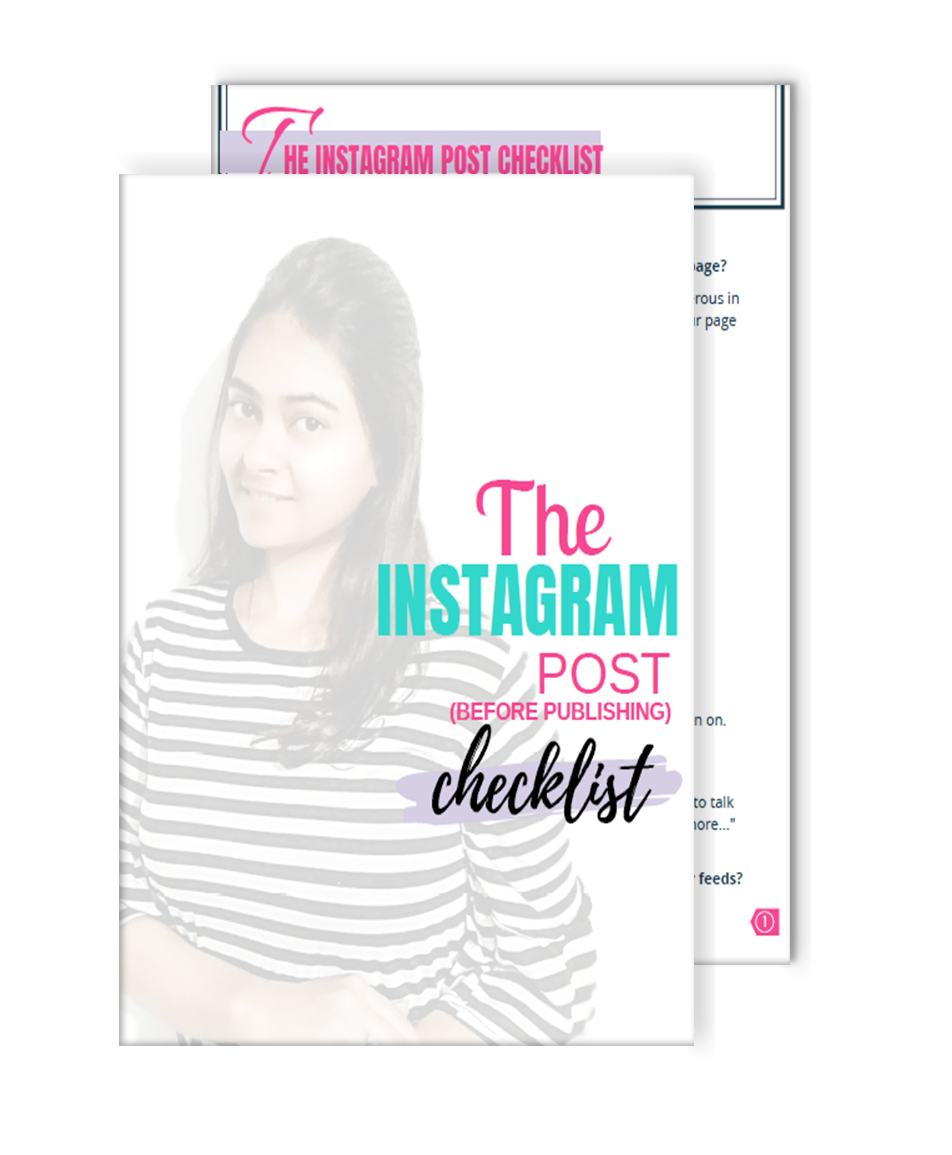 Want more ways to gain followers and engagement? READ THESE:
Liked this article? Pin this to save the ideas:
---
Want to get regular Instagram tips FOR FREE?
There are 3 different options for you... (hint: Smart people follow all three options to get the highest output!)
Read my articles here: If you got time, read here. If not, follow me on bloglovin to read these articles later.
Receive Instagram tips in your emails weekly: Subscribe to my popular Instagram Course for free.
Get tips on your Instagram App: Follow me on Instagram here. I created this brand new account to help you grow with me. Follow the free tips from this account before your competitors find them out.
---
Think of someone who might use this information?
SHARE IT WITH YOUR FRIENDS:
Did you find my tips helpful?

If so, feel free to buy me a coffee and support my blog.