---
Do you want to learn blogging from the experts in the market but can't afford their courses?
If you're a beginner or an intermediate blogger who wants to notch up their blogging game but can't find where to start?
Deal?
5-day Blogging Course for FREE: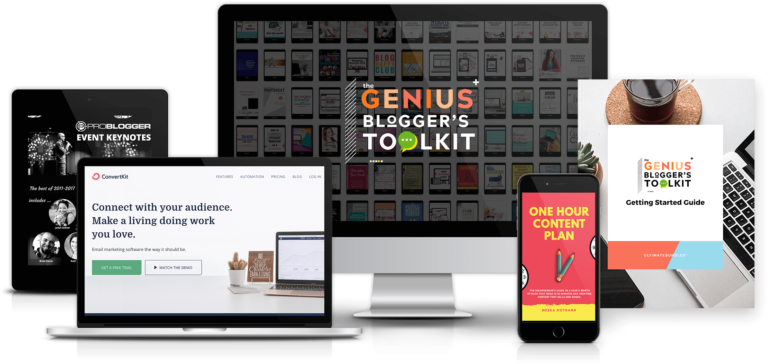 Great! Let's get started!
First of all…
WHAT IS GENIUS BLOGGER'S TOOLKIT 2018 BUNDLE?
It is a collection of e-Books, courses, membership sites & stock photos around education about ALMOST ALL the aspects of blogging – blog content creation, traffic generation, social media marketing, email marketing, affiliate marketing, & more.
These resources are created by some of the TOP BLOGGERS and they are hand-picked by the Ultimate Bundles team.
This bundle comes out only ONCE in a year! So, if you're someone who wants to take this opportunity to learn from some of the experts, you should definitely wait for this bundle to come out.
But before that, you need to read this review, so you know if it is worth for YOU or not…
HOW MUCH DOES IT COST?
It costs about $97. This year's GBTK bundle has 85 resources. If you go & purchase all of them separately, it will cost you over $5,867.88.
DO I HAVE LIFETIME ACCESS TO THESE?
You have access to the GBTK bundle for only one year. But, once enrolled into the courses through GBTK, you have access to them for lifetime.
Plus, keeping track of all the course sites, login information & access URLs might become a headache, so make sure you create account for each of the courses and save it in a trello board for GBTK courses. This helps me a lot with organizing my resources.
Also, since I'm not good with deadlines, I download everything that's downloadable through the portal in a GBTK folder. Another tip for organization…
WHAT DOES THE GENIUS BLOGGER TOOLKIT 2018 INCLUDE?
This year's toolkit has around 85 resources including:
41 Courses & videos
9Printables & workbooks
15 eBooks
5 Stock Photo Packs
2 Membership Sites+ Bonuses – subscriptions to different sites (like, ConvertKit, Podia, Tailwind, Stencil, Scribd), free premium WordPress theme etc.
around these topics:
Content creation for your blog
(Blog Post content, Product creation content, Podcasting content, YouTube content)
Getting started with your blog
(Start blogging, start a mom blog, becoming an Influencer, Blog vocabulary etc.)
(Email List Growth & marketing, using Pinterest to grow email, writing irresistible emails, Guide to ConvertKit, etc.)
(Blog Photography Guide, Stock Photos, Building beautiful blog, Learn Photoshop & LightRoom)
(Affiliate Marketing, pitching brands, working with brands, media kit creation, etc.)
(Get Paid to Pin, Hashtag Pro, manual Pinning organization with Trello, Pinterest Keywords Tracking, Going live training, Tailwind Tribes)
(Better Blogging, Organizing Blog Content, Time Management, Proven workflow hacks for busy entrepreneurs, Blogging Binder, etc.)
(Blogger to Author, Ebook by Number, Canva templates, crafting webinars, sales page, etc.)
(Business Plan, GDPR survival, Trademarks and copyright, Online Success, Keeping Blog Legal, etc.)
(Blog Happy Club, Blogging Business Club, etc.)
(Business Analytics, CSS, SEO help, Easy WordPress, etc.)
Well, it's worth telling you that there are courses more than e-Books in this year's bundle. So,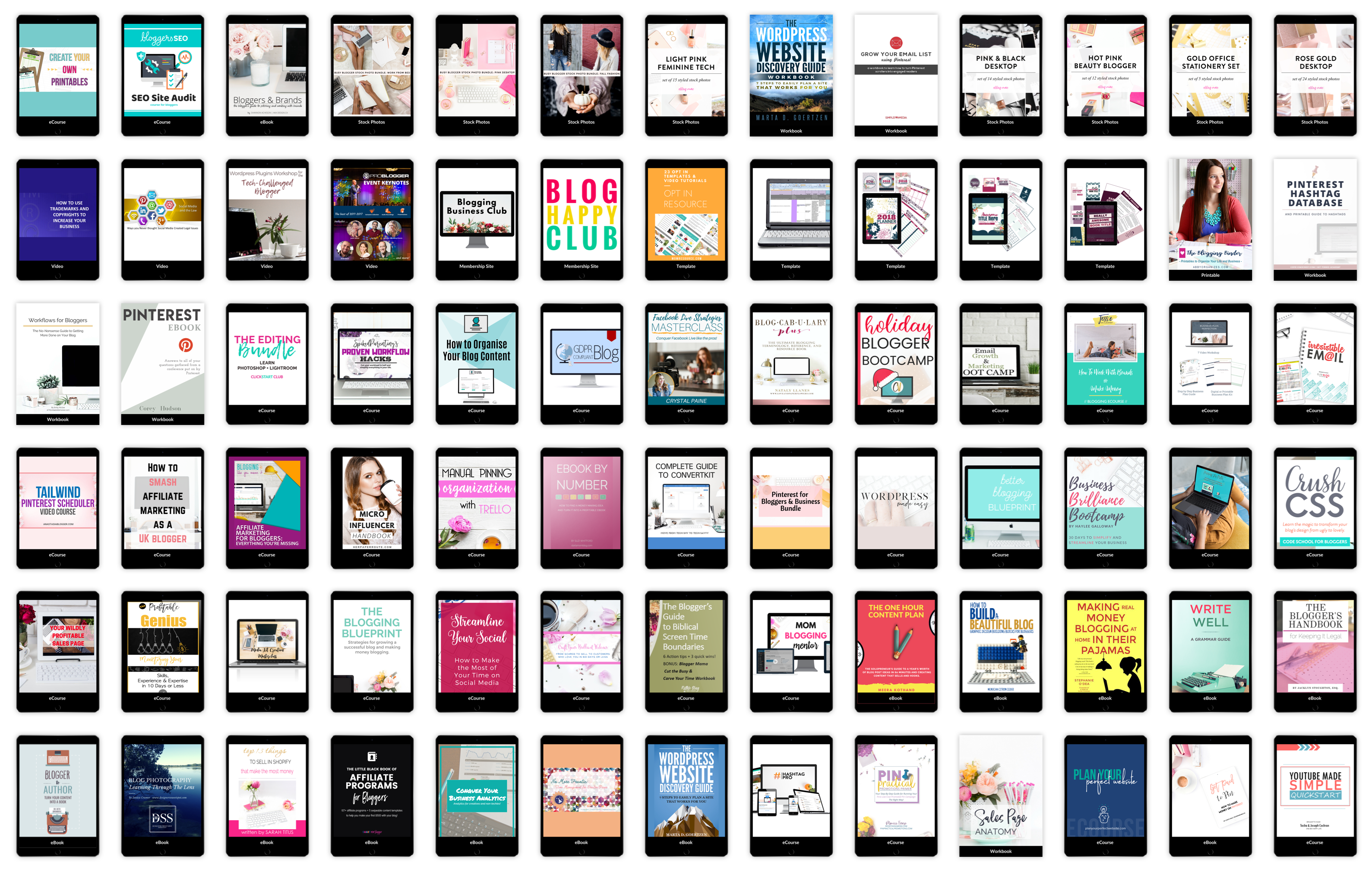 THIS IS A LOT. SOUNDS LIKE A SCAM! WHY IS IT SO CHEAP?
No, it is NOT a scam! I've purchased it so I can tell you that!
Then, why is it so cheap, you ask?
These resources are digital resources. Hence, once produced can be sold multiple times WITHOUT any extra work! Hence, selling them for cheap does not result in loss!
So, what's the catch?
These resources belong to different bloggers in the industry. They might want new audience and exposure to reach more people.
The best option for them is this toolkit. Since, this toolkit is so wildly popular & only arrives for a week ONCE in a year, it is the best way to get exposure to new audience!
Not at all. The ultimate bundles team handles all these things. They hand-pick these resources and decide which ones to add and which ones to reject.
IS IT WORTH $97?
I have gone through many courses included in Genius Blogger's Toolkit 2018 bundle, & I should confirm that this toolkit is very well-worth the price (at-least for me). You'll know if it is for you in a while after you read the whole article!
These are just the ones I checked out and went through all together & liked them.
So, this was all about what you needed to know about the Genius Blogger's Toolkit 2018. Now, let's talk about if it is a good buy for YOU…
HOW DO I DECIDE WHETHER THIS IS A GOOD BUY FOR ME?
Have you been eyeing a product for a long time that is already included in the bundle? This might be the best time to grab the product! (For me, it was Ebook by Number by Suzi Whitford which costs $97 itself, so it was worth for me, even if I only use this one)
Do you have a favorite blogger who you would want to learn more from? Look at the names of the creators. This might be a good opportunity to gain access to one of their products.
Do you have the budget to purchase this toolkit? If it does not include the aspects of blogging you're struggling with, then buying the toolkit just because it's cheap will not be a good option for you.
Would you make a good use of these resources? Are you actually going to spend your time in learning?
If you're someone who purchases products & never gets to finishing it, or taking the time to learning from it, this is probably NOT a good deal for you.
$97 IS TOO MUCH FOR ME!
If you were here a few days back, the Ultimate Bundles team had a VERY helpful webinar series organized totally free of cost!
These webinars were full of massively helpful tips for your blog.
Since those aren't available now, you should probably follow these steps:
Let's talk about pros and cons of this bundle to help you make a good decision whether to buy or not:
WHAT DID I LIKE ABOUT THIS BUNDLE?
Price
The toolkit is a total steal. I can't say that enough. In fact, few products inside the Genius Blogger's Toolkit 2018 are around $249 themselves. So, even if you used just one product from this toolkit and don't even touch other resources, it would be total worth your money.
Affiliate Marketing
This is a huge opportunity if some of the products would resonate with your readers/audience. You could apply for becoming an affiliate for the individual resources and make money by promoting those to your readers.
A LOT of helpful resources
The resources included in the toolkit are a LOT. You can never get these many resources at such lower price. If you went to buy these courses individually, they would cost you around $5,867.88.
So, if you were ever wondering of learning through paid courses from some of the experts in the market, this must be your chance to go for it.
Return Policy
The ultimate bundles team has put down a very generous return policy. If you're not happy with your purchase, you can ask for return within 30 days of purchase.
Good customer service
I don't have experience with this, honestly. But, I've heard many bloggers talk about the amazing customer service of ultimate bundles. If you ever have any questions or problems, they are always ready to answer them.
WHAT I DIDN'T LIKE ABOUT THE BUNDLE?
Overwhelming
Having a lot of resources at the same time is good, but it can overwhelm some of us. This also has the side-affect of getting stuck in learning and never get to the implementation part. If you're someone like this, please make sure that you make a list of all the resources that you actually need to focus on currently and implement as you learn.
Don't just go & try to learn everything at the same time. It would not be fruitful at all. Trust me on this one!
Sales Pitch
Some of the resources are like a sales-pitch for their higher-end resources or the full course. It is very disheartening to learn from a resource that makes you feel like you-also-need-to-buy-this-if-you-want-to-see-full-results!
Luckily there are not many of such resources (at least not many that I've referred till now).
Few low-quality resources
Many resources are excellent, but not all. If you do purchase the bundle, make sure you take an overview of the resource before you go through the whole resource, so as not to waste your time in these!
AM
I

HAPPY WITH THE RESOURCES?

Some of the resources that are included in this year's bundle actually surprised me. As I told you, the Ultimate Bundles team work hard to gather these resources, so they always choose what's best.

I had even bought a few of those individual courses. I was annoyed by knowing that I bought those courses and, instead, I should have waited for this bundle to come up.

But anyway, it's still a best deal for ME, since I've already found a lot of helpful resources for me. Yet to explore the whole bundle myself too 😉
HOW DO YOU GET ACCESS TO THE GENIUS BLOGGER'S TOOLKIT 2018?
Made the decision to purchase Genius Blogger's Toolkit 2018 already?
---
Want to get regular Instagram tips FOR FREE?
There are 3 different options for you... (hint: Smart people follow all three options to get the highest output!)
Read my articles here: If you got time, read here. If not, follow me on bloglovin to read these articles later.
Receive Instagram tips in your emails weekly: Subscribe to my popular Instagram Course for free.
Get tips on your Instagram App: Follow me on Instagram here. I created this brand new account to help you grow with me. Follow the free tips from this account before your competitors find them out.
---
Think of someone who might use this information?
SHARE IT WITH YOUR FRIENDS:
Did you find my tips helpful?

If so, feel free to buy me a coffee and support my blog.